Nicholls and

Janes
of High Wycombe

Furniture makers

c1869

to

c1970






Nicholls & Janes made furniture in High Wycombe from 1868 to 1968, and this website highlights some of the history of the company: the furniture they made, and the people who made its reputation for quality products. However, there will soon be a major new online resource documenting and interpreting the furniture they made, with a comprehesive analysis of the re-discovered archive of photographs and drawings that the company kept

...
Watch this space for news!
info@NandJ.org.uk
Thanks for any feedback or info
People
Places
Furniture
Queen Mary's Dolls House
Wood carving
History
Photos
Links
The following list of articles about people who worked for, or were associated in some way with, Nicholls and Janes is numbered in the order that items were written or were received since March 2011.
There are names of many more N&J people on a list we are compiling, and doubtless many more names we don't know.
You can view the list here.
If anyone can add any names, or any more info or anecdotes, or images, we would be delighted to hear from them / you - please email info@NandJ.org.uk
1 John Hudson (1895-1962)
2 Jim Mundy
3 Alfred Nicholls, (b 1866)
4 Boaz Nicholls (1871-1948)
5 Harold Nicholls (1889-1931)
6 Harold Joseph Clark (1903-1939)
7 Charlie Ede (1895-1974)
8 Bill Austin
9 Tom Lupton, N&J chair 1951
10 Sir Edwin Lutyens
11 Factory Outing, 1946
12 Ted Hoing
13 Reg Boreham
14 Philip Hussey
15 Albert Shattock (1862-1934)
16 Robert Heritage, 1956
17 Reginald Wisdom (1896-1920)
18 Martin Murray (1928-2009)
19 Harry Read (1897-1975)

John Hudson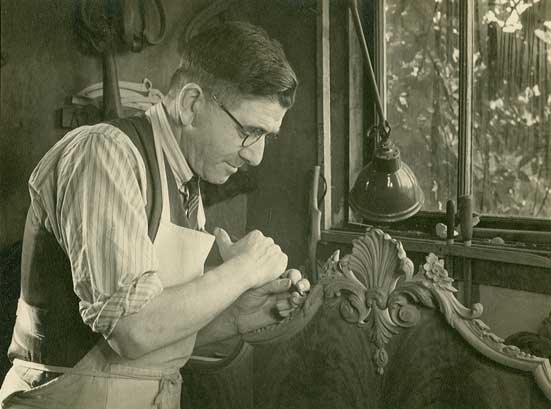 John Hudson, Chief Woodcarver, around 1953.
More photographs of him are in the album
Nicholls & Janes 2 - click the 'Photos' tab above.
This is a memoir of N&J written by John's son Frederick Hudson (born 24 October 1920 at number 33 St Mary's Street, opposite the Nicholls and Janes factory, and next door to the Horse and Jockey public house). Written in October 2011 - many thanks to him for writing and sending this.

"My father John Hudson was always a wood carver and did lots of repairs to antique furniture. He spent all his life working at Nicholls and Janes . In those days most carvers were piece rate workers and self employed, and all jobs were priced. For example, a ball and claw foot was carved for 2/6d or 3 shillings – that's 25p or 30p in today's money. This was in the 1930s.
Dad has his work brought to him and he carved in his own workshop, but once the road development came, our house was pulled down. Dad started work in the area of the factory that was once Widgington's. This was part carving shop and part for chair making. Mr Smewin [see photos tab, album 2] was the craftsman who made the spider back chairs, a very good craftsman. Dad had many young men work with him over the years. One of them was the young sailor referred to in Alison Uttley's book [see the 'history' tab] and the last one was a young man from Beaconsfield called Tony Achills [see photo album 2].
But work began to slacken and most of the craftsmen left. During the war N&J made all types of ammunition and special boxes for the army. My Dad was sent to work for an aero-propeller making firm. After the war, utility furniture was made – good stuff – my bedroom suite is N&J utility! Dad returned to carving and did lots of very high class jobs – work for overseas clients and for specialists like Maples and Waring & Gillows in London. He also went on a two week exhibition to Bournemouth. They put on a special carving display in the shop, Dad carving a variety of special pieces.
My father had five brothers working at N&J – Uncle Harry was Foreman Polisher and Uncles Jim, Tom and Frank were top class French Polishers. Uncle Sid was an upholsterer on the top floor. Two of my cousins also worked in the cabinet shop. It was a great firm but the move to Queens Road didn't go well. I was very sorry to see the firm die. With men like my father it wasn't just a job, it was his life and passion. He died aged 67 in 1962."

Frederick Hudson, October 2011

======================================

This is a memoir from Jim Mundy, who worked at N&J from 1948 till 1958. He was an apprentice French Polisher, going there straight to N&J from school, and he left to set up his own business. With his son David joining him in 1984, the firm is now called JW Mundy & Son. Many thanks to them both for sending this memoir (November 2013).

My Time At N&J 1948-1958

I started at N&J in late 1948, aged 15, as an apprentice polisher. In the polishing shop at this time, the workforce was well established and comprised of Harry Hudson, the formidable foreman, his brothers Tom, Frank & Jim, alongside Tom's two sons Tom jnr and Ted. The Frank Hudson mentioned above was the father of Frank Jnr, who started the well-known furniture company of Frank Hudson & Son in High Wycombe. In fact, I was the first apprentice polisher taken on by N&J for 40 years, the previous one being Jim Hudson.
The Monday morning ritual, after a heavy weekend of drinking for them, came as a surprise to me. At tea break time (9-30am to 9-40am) the mad rush took place as the workforce swept across the road to the Horse and Jockey, where the Landlady would have all their freshly pulled pints waiting for them to down quickly, lined up on her garden wall, as the pub was not open at this early hour. At lunch time they would pop in for another pint, and settle their account!
Some of the names of that time that spring to mind include, Ted Hoing, the manager, who later worked for EMF Brown of Duke Street. The foreman cabinet maker, Harry Reid, who strolled around whistling a tune. The cabinet shop consisted of Aubrey Lacey, Bill Partridge, Bert Cutler, John Constable, along with the apprentices, Ray Sims, Tony Banham & Vic Shaw.
Members of the carving shop that I remember include, John Hudson, Les Harvey and Tony Achills. The veneer shop was run by Frank Floyd. The two chair makers that I can recall are Arthur Busby and Reece Hawes. Stuart Janes ran the mill. Unfortunately, I can only recall the first name of the upholsterer, Edwin. Harold Tindall ran the wood yard. The maintenance team for the site consisted of Bert White and his assistant, who could be seen pushing their two wheeled cart loaded up with tools and materials, wherever they went. Charlie Eade ran the stores.
Mr Harry Janes was the boss at this time, and always treated me very well. In fact in the last couple of years of my time there, he often passed on private jobs to me to do, to earn some extra money. The firm did very good work, and I recall working on bedroom suites for both King Farouk of Egypt as well as one for the Shah of Persia.
Mr Ralph Janes (Harry Janes' Father) had a habit of passing time by shooting the birds that were sat in his cherry trees eating his crop! One day his prize gun went missing, much to his annoyance, and rumour has it that some bird loving worker had placed it in the trench just before the concrete for the footings were poured in for the Wycombe College to be built on!
I left the firm in 1958 to start my own French Polishing business in Maidenhead, which is still going strong, now run by my son David. I still work there at the sprightly age of 80!

Jim Mundy, November 2013

======================================

Alfred Nicholls 1866 - 1940

Information for these notes has kindly been provided by Martin Campbell, Alfred's great grandson.
Alfred was the sixth child of N&J co-founder, Charles Nicholls (1824-1902). He was a carpenter / carver / polisher by trade - in the 1911 Census he was listed as a wood carver. He and his wife Ellen (nee Craft) lived in Mill Street, then Kitchener Road, and then 127 West End Street, High Wycombe. They had five children, Harold, Harry, Elsie, Ada and Alice Nora.
Martin Campbell: "We have some wonderful photographs of Alfred, probably taken at Desborough Road in High Wycombe.
"Despite Alfred being such a pivotal person in my family history I know surprisingly little about him. However, his grand daughter, June Campbell (nee Clark) still has a footstool with 'claw and ball' feet that he made." (see the photo below)

======================================

Harold Nicholls, 1889-1931

Information for these notes has kindly been provided by Martin Campbell, Harold's grand-nephew.
"Harold Nicholls was the first child of Alfred Nicholls (b 1866, see above) and Ellen Nicholls. Perhaps with a tinge of long-felt jealousy, Alice Nora Clark (nee Nicholls) spoke of her oldest brother as being the 'most loved' of Alfred & Ellen's children. This photograph of Harold is dated 1910. Harold was a superb carver and was commissioned to produce a mirror frame for Windsor Castle. As Nicholls & Janes contributed miniature furniture pieces for the Quenn Mary's Dolls House, at Windsor Castle, we can, perhaps, presume that he worked for Nicholls and Janes.
Sadly, Harold died of pneumonia in 1931 aged only 42."

======================================

Harold Joseph Clark, 1903-1939

Above, Harold Joseph Clark. The following notes about him, and photographs, have been kindly provided by Martin Campbell, Harold's grandson.

"My grandfather Harold Joseph Clark worked at Nicholls & Janes until he died in 1939. He married my maternal grandmother, Alice Nora Nicholls, in 1928. Her grand uncle was Charles Nicholls who co-owned & founded Nicholls & Janes. Harold worked for Nicholls & Janes so I suspect my grandparents may have met through the factory. When they married they could only afford to rent a house (56 Green Street, High Wycombe) and furnish it with a second-hand dining table, bed and chest of drawers.
"However, Joseph had a romantic secret. He had been given the choice of off-cuts of wood and time in the factory to make a suite of stunning furniture. My grandmother was carried over the threshold into a house full of new furniture he had made.
The items included:
- Six 'claw and ball' dining chairs (three each of two designs)
- Matching, pierced, bed headboard and two delicate side chairs
- A radio-gramophone cabinet with wine racks below
- An extraordinary 'wheel-back' chair which had won the 'Chair of the Year 1928' award at a national show (at Olympia I think). We know it was featured on the front cover of an edition of The Cabinet Maker magazine that year.
- A cane backed chair which may have been made by Crafts of High Wycombe as there is also a family connection there – Alice Nicholls's mother, the wife of Alfred Nicholls, was Ellen Mary Craft.

8 photographs of this furniture are included in photo album 2, with captions

"Harold and Alice were married on 26th May 1928. We have a wonderful wedding photo which resonates with the style of the era. I believe we may also have an image of their honeymoon – certainly it is them, very young, paddling on a beach.

"Alice Clark (nee. Nicholls) remembered her husband Harold Clark (left) as a soft-spoken, kindly man who was an accomplished carpenter. He has left an incredible legacy of finely carved furniture including an elegant gramophone cabinet, six 'Chippendale' style dining chairs, two 'classical' delicate bedside chairs and matching headboard and the stunning 'wheel-back' chair referred to above.
"Harold sadly contracted Tuberculosis and, despite recuperation for several months by the seaside, he died in the War Memorial Hospital in High Wycombe on 26 March 1939 aged only 36.
"Alice and Harold had clearly been active in societies as a young couple before they were married – maybe they even met there ? We have a highly evocative photo of then in the grandly titled 'White Hart Street Operatic Society' (below). They are shown on 'Easter Monday, April 1927' having just performed 'Don Quixote'.

Alice Clark (nee Nicholls) is second row from top, sixth person from the left. Harold Clark is third row from top, second person from the left.

"Alice and Harold had two daughters, June born in June 1929 and Beryl born in March 1931 ????. Alice had to bring the girls up on her own and during the austere war years. This can't have been easy for a single parent. "Members of her husband's family stepped in to help. Harold Clark's sister Hilda had married William Davis, who was a wealthy owner of Davis' furniture factory. He owned Loakes House which once stood beside Loakes Park, the old Wycombe Wanderer's Football Ground. The Davis's took Alice and her two girls in, so the Clark family had a strange war time in a grand house with a grand piano and lifts in William Davis' grand Packard motor car."


A claw and ball table made by Harold Clark which is still in the possession of one of his descendants.

top of page


======================================


Boaz Nicholls and one of the chairs he made. Photos kindly provided by Becky Holt
It is thought that other Nicholls family members who worked for Nicholls and Janes included Boaz Nicholls (1871-1948), the son of another of Charles Nicholls's younger brothers, Richard Nicholls (1832-1889). He is listed as being a chair maker in the 1901 Census and is thought to have made a set of chairs for each of his daughters when they married. If anyone can provide more information or photographs, preferably with permission to publish here, please contact info@NandJ.org.uk

======================================

More recollections of N&J 1948-1958, kindly contributed by Jim Mundy:

"All factories at this time had a resident joker, and at N&J it was Charlie Ede, the store keeper, who always had a trick or two up his sleeve. One Friday after work, he filled up with putty the key hole on Bert White's (Maintenance Man) workshop door and painted the door to hide the hole. Bert duly arrived on Monday morning, and was left scratching his head as he searched for the invisible key hole to put his key in to unlock, which caused much merriment amongst the staff.

"On another occasion, he placed a sack over the chimney of Harold Trendall's workshop, so that later in the day when Harold lit the fire, the shop quickly filled with thick smoke! I always remember Charlie Ede giving me some advice when he learnt that I was leaving N&J to set up on my own. 'Jim,' he said, 'always remember the rag and bone man, who was
making good money until one morning he went to the stable to get his horse, and found that it had died overnight. As the rag and bone man hadn't put money aside for a rainy day such as this, and couldn't afford a new horse, he was soon out of business.' Sound advice indeed!"

Charles Edwin Ede was born in Midhurst District in 1895, and died in Wycombe District in 1974

======================================

Bill Austin

"Another character there, Bill Austin, the lorry driver, enjoyed going up to London for Mr Harry Janes, to replenish his supply of Gin and Whisky. In those days it was sold in stoneware, one gallon jars. Bill had to take these empties back, that Harry never bothered to drain right out, and with the aid of a funnel and a couple of empty bottles in the lorry, Bill replenished his spirit stock for nothing!" - Jim Mundy

======================================

Tom Lupton was an architect who became a furniture designer and producer. He eventually sold his furniture business LM (Lupton Morton) to Terence Conran, and its Wallingford base became central for the growing Habitat empire. Habitat opened its first store, in Chelsea, in 1964, and its first mail order catalogue was published in 1969 - it featured the Lupton Morton range of furniture.




"A Gonzala Alves chair with latex cushions, interior springs and handwoven upholstery, designed in 1950 by Tom Lupton and first produced in 1951 by Nicholls & Janes Ltd for Elizabeth Eaton Ltd, 100 Brompton Road, London, SW3. Made to order."

Lupton's association with Nicholls and Janes may be incidental, but there is at least one record of a chair he designed being produced by N&J, as pictured above. The caption is quoted with permission from a blog by author and publisher Mark Hill at
http://www.markhillpublishing.com/an-archive-of-furniture-photographs-acquired-i/
This tells the story of how Mark came by this and other photographs. If any copyright exists please let him and us know.


The chair is beautifully made to show off the distinctive character of the wood, sometimes called Goncalo Alves (Astronium graveolens).

Tom Lupton is listed in the V&A Museum's publication 'Modern British Furniture Design Since 1945', by Lesley Jackson, under the heading 'Furniture in the Space Age: Mavericks and Entrepreneurs 1960–1980: Habitat and L.M. Furniture, Conran Design Group, John Morton and Tom Lupton.'

There is more on Lupton's contribution to Habitat's success in an article by Vanessa Barford in BBC News Magazine in May 2014, which claims that flat-pack furniture was one of 'five Habitat products that changed the home'.

She writes: "Flat-pack furniture - or "knock-down" (known as KD) - was stocked in Habitat stores from the mid-1960s. Instructions and all the parts could be taken away in a carton or ordered through catalogues. Lawson thinks the kick-starting of the UK's flat-pack revolution in the early 1970s was Habitat's most significant contribution to furniture innovation.
Alex Goddard, curator of Geffrye Museum agrees: 'The Campus range - mostly epitomised by the three-seater sofa manufactured by Lupton Morton in 1968 - marked an important expansion of the flat-pack market, particularly for expanding numbers of students in digs setting up home.'"

(N&J had certainly been listing KD products in their designs from the early 1950s.)

More incidentally Tom Lupton is said to have owned the Beechwood estate in Leeds, inheriting from two spinster aunts in 1972. This suggests that he was (or is, if he is still alive) probably related to Kate Middleton, aka Catherine, Duchess of Cambridge. See the extensive item about the history of the Lupton family on Wikipedia:
http://en.wikipedia.org/wiki/Lupton_family

If anyone can provide more information about Tom Lupton or the history of KD (knock-down or flat-pack) furniture, and more especially their associations with N&J, please let us know at info@nandj.org.uk

======================================

Sir Edwin Lutyens, probably still the most famous of 20th century English architects, also designed furniture, and many of his designs were made in wood for him by Nicholls and Janes.
Ralph Janes: "My albums are full of photographs of most unusual and beautiful things of his design that we had the pleasure of making, including many pieces that were made for Queen Mary's Doll's House."
See more in the 'lost archive' paragraphs under the 'furniture' tab, and also under the tab for 'Queen Mary's Dolls House' (above).

======================================

N & J factory outing, 1946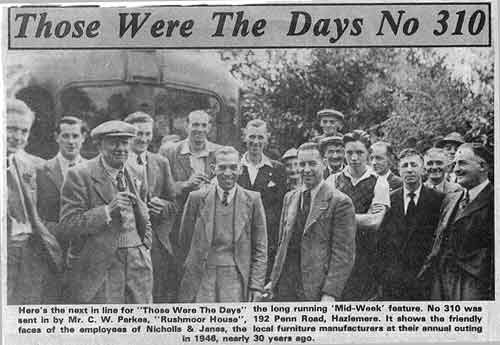 This photo is of the annual N&J outing in 1946, reprinted in the Bucks Free Press 'Mid-Week' around 1975. Front row: L to R, Eric Janes, George Smewin, ?,
Ted Hoing (Foreman of the Cabinet Shop), Reggie Boreham.
Can anyone provide any more names, background info, or similar photographs?
======================================

Ted Hoing

Vera and Ted Hoing in 1960, at their son Roy's wedding
Ted Hoing (1906-1978) joined N&J as an apprentice and rose to become manager (see also above, a mention in Jim Mundy's memoir).
Many thanks to Ted's son Roy Hoing, a Chartered Accountant, for the following memoir of his father.

Although my father passed the exam to go to the newly built Royal Grammar School, my grandparents could not afford the fees, so as he never mentioned any secondary education my father may have joined N&J as early as 1920. He was an apprentice cabinet maker but over the years he also learned to make chairs as well as design furniture. He met his wife Vera (nee Coote) near her home in Essex when he went to play for Hazlemere FC in a friendly match against Rawreth, a village near Wickford: they were married in Essex on September 3rd 1932.

He rose to become manager of the factory by 1939, the outbreak of WW2. He was medically unfit for war service and became an air raid warden. N&J during the war made ammunition boxes and mine detector boxes. As well as making the furniture for King Farouk N&J made furniture for King Faisal of Iraq and I remember he was assassinated before it was delivered. I understood that N&J had quite a fight in extracting money from the Iraqi embassy. The firm also did a lot of work on panelling on the old Queen Mary. N&J had a very good cricket team - it usually got to the final of the local knock-out cup, played on the Wycombe CC ground. One of the players was Frank Floyd, a fast bowler who played for Wycombe and Bucks.

My father left N&J probably in the early 1950s to become manager of EMF Brown in Duke Street, another maker of high class furniture. I know that my father was responsible for designing the Butterfly chair, a derivative of which found fame in the Christine Keeler photo. He stayed a few years there and then joined George Soden and another and rented Giles factory in Church Lane West Wycombe making high class furniture to order. He died in 1978 following a heart attack.

He was born in 1906, probably in Lane End as his birth was registered in Marlow. His mother was Eva Constable, born in West Wycombe and his father, Arthur, in Wheeler End. The surname Hoing comes from Germany. As I understand it a Hoing came over in early 1800s to be butler, some say Cliveden, but I believe it was Hedsor House. Most of the family Hoing remain in the High Wycombe area but a few can be found in the Sheffield area. My grandparents moved to Terriers and my father went to Priory Road Primary School. My grandfather suffered from shell shock at the Battle of the Somme in 1916 and hardly worked after WW1.

My own recollections of furniture factories are similar to those of my cousin, Peter Batchelor, whose memories are referred to in the thesis "The Decline of the High Wycombe Furniture Industry: 1952-2002" [see the History tab] … very dusty workshops with shavings and dust everywhere. You could hardly see out of the windows and there was always a smell of glue being boiled. As Peter said, the machines did not have guards and my father lost the little finger of his right hand. I remember a lot of the machines were belt driven.

My daughter Laura, married James Arnold, the son of Karl, twin bother of Jonathon Arnold, also mentioned in "The Decline of the High Wycombe Furniture Industry: 1952-2002", and shown there in a photo with Peter Batchelor. My other daughter, Frances, lives in Worle, and my son son Adrian, twin of Laura, is a Chartered Accountant like myself, in Marbella, working in Gibraltar.

Another relation, Clifford Hoing was a well-known violin maker, who lived in West Wycombe Road.
======================================

Reggie Boreham

Reg in an Arsenal team photo (see arsenal.com )

Reg Boreham (1896-1976) was an outstanding Wycombe Wanderers player who was selected twice for the England amateur international team. He also had two very successful seasons playing as a striker (and as an amateur) for Arsenal, from December 1921 to 1923. He made his league debut in a 1-1 draw against Bolton Wanderers in December 1921 and was a regular in his first season, playing 22 times. He added to his 10 goals with another eight in the 1922/23 campaign, appearing 27 times. Among memorable goals he scored were the two that secured a particularly famous (or infamous, due to widely reported dirty play, and crowd disturbances etc!) 2-1 win against Spurs at White Hart Lane, see http://www.blog.woolwicharsenal.co.uk/archives/6992
Boreham did lose his place eventually, however, possibly due to injury, and after two seasons out of regular selection his contract was cancelled in May 1925.
He became Wycombe Wanderers' Secretary, a position he held from 1937 to 1950.
Roy Hoing (see above) says he can remember Reg sitting in the office on the east side of St Mary Street where he was bookkeeper/accountant. Reg was also a member of the Board of Nicholls and Janes.
======================================
Philip Hussey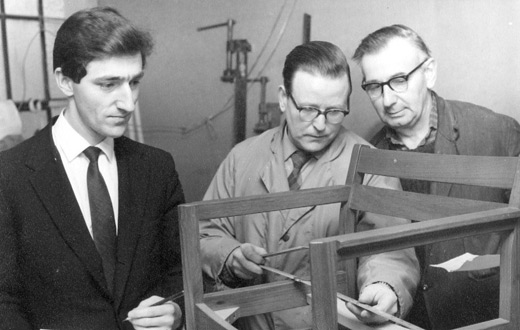 Philip Hussey, left, in the 1960s (after he had left N&J)

In April 2017 Wycombe Museum received an offer of a donation of documents relating to the furniture made at Nicholls & Janes. The offered donation, which is still awaiting formal acceptance from the museum, is from Professor Philip Hussey, who joined N&J from High Wycombe Technical College Art School in 1954 and stayed until 1961.
A selection of Philip's furniture designs, sketches and plans for N&J, and other donated documents are shown in the three web albums N&JPH1 (Numbered sketches), N&JPH2 (Unnumbered sketches etc) and N&JPH3 (Samples of contents of four boxes of photographs etc). These are also accessible via the 'Photos' tab here at www.nandj.org.uk
Details of items can be download here
N&J was Philip's first employer after leaving college, but, ironically, this first job (and so his subsequent career in furniture design and education) was partly down to the flip of a coin. When he and his twin brother Trevor began looking for work on leaving the Tech, there were two vacancies that interested them: one in engineering and one in furniture design. They agreed to toss a coin to see who would do which, and Philip got to successfully apply for the N&J job.
He was quite happy with the chance to learn about furniture design: he could draw as a boy, and his father was a good amateur painter and they would sometimes paint together. However, Wycombe Tech wasn't regarded as a particularly good art school so he had a lot to learn when he started at Nicholls and Janes in 1954 aged 16. He was with N& J for seven years including five as an apprentice, but he did become a key figure in the business.
Furniture making did have a precedent in Philip's family – his father was a fine chairmaker, and the legendary furniture maker Owen Dean, who worked in Hampden Woods, early in the 20th century, was Philip's uncle.
There was not a lot of in-house guidance available but he improved rapidly in the job, working on designs in various media (see below). Sometimes he would have one or two of these to do in a day but usually there were several days between enquiries, and many of those could be answered with photographs.
He says: "The apprenticeship was longer than most and was a way of keeping your wages down. However, it did give me one day each week at H W Technical College were I accumulated several qualifications (City & Guilds Cabinet and Chair Making, Advanced Drawing & Construction and the Full Technological Certificate. Finally the National Diploma in Design, again part-time). At the same time I studied for six 'O' levels and two 'A' levels at evening classes plus one more 'O' level by correspondence as I ran out of evenings in the week. I had started on a ridiculously low wage of 25 shillings a week, and I had to work on Saturday mornings. Cycling down from Naphill each day. I think most apprentices would have been on £2 at least. I still have a pay slip hand written on a small piece of paper some 6cms square. It is undated but close to my leaving - £6.10s less 7s tax, 9s 11d Insurance, 1d Child (?), leaving me with £5.13s.
"Why I took the job I don't know, but I found that I really liked it there, it was an incredible experience with marvellous, skilled and interesting people. There had been a chap before me and he could really draw; I was very impressed by him. I can't recall his name, if I ever knew it. Some of his drawings are included and are in the catalogues.
"Harry Janes, the company director, was known generally in the factory as Mr Harry. His father Ralph Janes (6th Nov 1872 - 2nd Aug 1954) was the co-director, but I joined around the time of his death. The company would receive enquiries for furniture, or Mr Harry Janes (Mr Harry) the managing director, would seek them. Mr Harry would usually do a small sketch of what he thought was wanted. I would then produce a sketch in colour to be sent to the enquirer together with a costing by Mr Harry. The sketch would be given a sketch number.
"My method of producing a sketch was to draw it either free-hand or on a drawing board with set-squares etc., depending on the item. The drawing would then be traced. The tracing could be transferred to paper by drawing over the back of the tracing, laying it on the paper then drawing again over the front of the tracing to transfer a faint image onto the paper. I could then colour this in with watercolours or coloured pencils and finally enhance the faint drawing with ink or pencil. Alternatively, I could trace my original drawing, usually in ink, and make a dye-line print from this which could be coloured and sent to the potential customer.
"I would use a mixture of freehand and drawing-board and tee-square work depending on the subject. Chairs, for instance, were freehand but square things, cabinets etc., were more quickly done with set-squares and rulers. Shading and wood-grain would be freehand.
"If the piece was made it would be photographed and given another number. A photograph would be added to a series of large albums, others kept in boxes to be sent to similar enquiries. Many enquiries could be answered with photographs, others required a new design and so a sketch.
"Preparing sketches for customers could be done in pencil or in ink and coloured with watercolours or coloured pencils. Both involved using a drawing on tracing paper to transfer the image onto paper and leave us with a record. The quickest method of producing a sketch was probably by pencil but this had the disadvantage that, if you wanted to use the design in response to a subsequent enquiry, you could not simply reprint the image using a dye-line printer.
"With ink drawings you could. I would use waterproof Indian ink, on tracing paper if it was to be copied, or straight onto drawing paper if it was to be used for printing in the catalogue. The problem with ink was that it was difficult to correct a mistake.
"The drawing equipment available did not help. Conventional pens and mapping pens were OK for freehand drawing but awkward to use against a ruler for an even line. The ruling pen, which allowed you to adjust the line thickness, was ideal for working drawings but not freehand. New pens began to appear: Graphos pen made by Pelican, a German company, offered a range of nibs to give set thickness's of lines but had the same limitations as the ruling pen – including having to be loaded frequently with a drop of ink by hand. The Rotring pen, again German, was a big advance. Each pen could be fitted with a range of fine tube-like nibs of different diameters and with their own ink reservoir. These could be used freehand. Their big problem was the tendency to clog up so that you could spend as much time getting them to work as doing the drawing. Now, fibre-tip pens have been developed which are easier to use but don't give such a clean line and are not reusable.
"The sketch number S1383 [see below] is an example of part of the process. When we had an enquiry Mr Harry [Janes] would come in to me with his sketch or would sketch something. I would do an initial drawing of what I thought he wanted and sometimes had to have another go. He would sometimes correct my drawing, with a rather heavy hand.
"Mr Harry would cost the design and send the sketch and costing off to the customer. If we got the order I would do a working drawing and a cutting list for the factory. The working drawing would be on a large sheet of brown paper, drawn with a tee-square, steel rules and set-squares on the top of a large table. The front, end and plan elevations would be drawn full-size, one over the other (sometimes only half of the piece was shown if the piece was symmetrical about its centre. These were sectional elevations showing the construction and each component, which was numbered. The numbers referred to the cutting list that would accompany the drawing.
"I remember introducing the practice of a coloured line round each elevation to make it easier to read: green for the front elevation, blue for the end elevation and red for the plan. This was somewhat scorned by the old hands. (At other companies I have worked for, working drawings would be drawn on large sheets of birch plywood or on tracing paper and dye-line printed. Some companies would require a drawing or each component showing and describing the sequence of machining operation on it).
"The cutting-list would list each component, the number required, its length (plus ½ an inch for waste), its width and thickness, and the species. If the component was curved, say, then a length plus 'to mould' was stated. I would prepare the moulds. These were 1/8'' or 1/4'' plywood shapes that could be marked round on a board to be band-sawed out. Chairs, for instance, needed a number of moulds for backfeet, splats etc. I would converse with others in the factory if there were technical problems or something I was not sure about.
"N&J wasn't an enormous enterprise. There were perhaps about 30 to 40 employees.
" I might take a day or more to produce a presentation drawing, some of the large ones longer, but the working drawings might take several days as every joint, every constructional and machining detail needed to be shown. Any carving had to be drawn and a tracing made for the carver.
"At some point I did get an assistant who could help on the working drawings etc. I did have other duties – some rather odd. It was my duty to issue light bulbs, which I had to stamp on the end with a rubber cup-shaped tool that etched the company name with acid. This was to prevent theft. Both the tool and the acid were so old that I later found you could rub off the stamp with your finger.
"I was also put in charge of the kilns. This was a daunting job because I was responsible for drying large quantities of timber to a required moisture content, (usually 10%). This involved constantly weighing samples and estimating moisture contents and keeping the temperature and steaming correct day and night. This was made even more fraught because they would not pay for a night watchman.
"Having put the drawing and cutting list into the factor any mistake could be a disaster. I can remember a beautiful walnut chest of drawers for which I did the working drawing making it 33 inches high. When the chest was half completed I looked again at the sketch to find that the height should have been 3feet 3 inches. To correct my error pieces of wood had to be inserted in the ends at each drawer and re-veneered because so much work including carving had already been done.
"There were other tasks such as moulds to make for chairs etc., and the need to help choose veneers. I was constantly on call, because they might find something that was a problem.
"The carving took some time. John Hudson was the carver and a very fine one; I seldom drew the carving well enough for him. He did give himself licence to alter some things if necessary, but I did try to be historically accurate about changing fashions in carving, mouldings and styles etc.
My knowledge of these was largely garnered from the past work of the company and of course, reference books. However, I am aware that we often used 'shorthand' that was not strictly accurate and is relevant to the descriptions given to some of the drawings and photographs in this collection. For instance, we often described any traditional oak designs as 'Tudor Oak' when the design may have been historically earlier or later. Again, the catalogues describe some designs as 'Hepplewhite/Regency' when the work was simply based on late 18th century styles or may contain a mixture.
"Although we did make accurate reproductions in an authentic way, we also adapted some traditional styles for our times. The modern sideboard [S1771] is an example. We would also most often use modern materials and techniques where these were an improvement on the past – the use of modern adhesives and for instance, modern composite boards (plywood, laminboard, chipboard etc., and laminated shapes) where traditionally veneering would often be done on a softwood core that shrank over time and would be vulnerable to central heating.
"Of course, many reproductions were also 'distressed', that is, signs of wear were added to age them. An indication of how authentic our work could be was shown when Mr Harry had to go to court once when someone had claimed that a piece was a genuine antique, and Mr Harry knew that we had made the piece. We did sometimes work with genuine antiques. I had once to attempt to reconstruct a Louis XV settee from what remained of an original that had been severely burnt in a fire. We also made an altar from Cardinal Wolsey's bed for Hambleden Church, Bucks, (they have the drawings and photo).
"We had a very large collection of photographic plates and it was part of my duties to print from these to maintain our stock of photographs. I had a darkroom were I printed them and developed plates. Every piece we made had to be photographed and if it was a single piece I would usually do it. I would photograph them in the yard then block out the background on the plate with red masking paint. Suites or groups of furniture were photographed commercially in the town by M.W.Keen.
The 50s and 60s saw declining demand for repro furniture and increased demand for modern designs, and N&J's efforts to adapt did include working with internationally known designers such as Robert Heritage: "I really liked his work. We made a large cabinet with a carved front behind glass sliding doors and a range of dining and bedroom furniture in (I believe) teak and sycamore. They didn't sell very well – I don't think that we could compete. If modern furniture was at the 'top end' in price then the customers wanted the real thing – Scandinavian furniture."
"I admired Harry Janes. He was talented. He could be likeable although I was always intimidated by his different social background and status. I was rather shy of him but although he could be frightening he was never unkind to me. It didn't help that he drank and in the afternoons and was often affected by it. I'm not sure about a culture of drink. I think that he was a social drinker who joined others with a similar inclination for a liquid lunch at the British Legion. It may also have been part of the way you needed to socialize to get business. At a time when companies were struggling to come to terms with change he would look for a wide variety of work. We once had a contract to fit out vans for the civil defence. He did eventually offer me more money, but not until I was already going, when he also offered a directorship."
There were many great characters who worked for N&J who Philip still remembers, but he was very surprised to learn about the past achievements of one of them - Reg Boreham: "He was a director and company secretary. He was a rather small man and always wore polished black boots. He took snuff and would scrub his handkerchiefs and hang them up (still brown) in the toilet to dry. Both he and George Davis, who kept the accounts, sat on high stools at high mahogany desks writing in longhand – all very Victorian. When we moved from St Mary's St., I pulled out a large set of bookshelves in my drawing office and there on the end of it was pinned a cigarette card of Reg Boreham and it revealed that he had played for Arsenal as an amateur and saved them from relegation! I never knew and he never said."
Philip's subsequent career took him to a number of other furniture makers and designers, including Peter Hayward in Beaconsfield (modern design furniture), then to JC in Brighton (repro furniture), then White and Newton, Portsmouth. Finally he spent twenty years with Brunel University at High Wycombe, later as Professor of Design and Craftsmanship.
Many thanks to Philip Hussey for sparing so much time to provide information about the items he has offered to Wycombe Museum, and in correcting various errors in a first draft of this text. Many thanks also to Wycombe Museum for allowing access to the documents, and allowing photographs to be taken. Also many thanks to Mike Dewey, who wrote a series of articles about Nicholls & Janes in 2017 for his popular 'Nostalgia' page in the Bucks Free Press. The first of these articles resulted in the initial contact with Philip Hussey which prompted Philip's decision to offer this donation.

RJ 15th July 2017
======================================
Albert Edwin Shattock, furniture designer and photographer

Albert Edwin Shattock (1872-1934) was a furniture designer and probably also a photographer who worked for Nicholls & Janes, from about 1910 to the early 1930s. He originated from Bath and he died there on 18th June 1934, but he still owned a house at 11 Roberts Road, High Wycombe, which was left with his estate to his widow Florence.

He must have preserved his links with Bath, as he was living with his wife Florence (nee Woolner) at 5 Darlington Street, Bath, when he died in 1934. However, in the Census of 1911 they were living at 11 Roberts Road, High Wycombe, and in the Electoral Roll of 1931 they were still there. The Shattocks' daughter Marjorie Florence Shattock (born 1911 in High Wycombe) may well have stayed in the High Wycombe area, in which case she may have descendants still in Buckinghamshire.
Shattock's work is probably well represented in an extensive archive of designs in an archive of work produced by Nicholls & Janes (see the 'furniture' tab here). The archive includes sketches, working drawings and photographs, and art nouveau elements surviving in some of this work may have been by Shattock. If so it may have been learned during his apprenticeship in Bath, or in early employment as a furniture designer in Bath. In the 1891 Census he was living in Bath and listed as "Apprentice (Designer)".
This was where the then prestigious Bath Cabinet Makers company was based, under the direction of the eminent designer Charles Richter. As Shattock's birth date was mid-way between that of Charles Richter (1867- 1946) and Herbert Richter (1874-1955), it may be there were some common specifics in where they trained and who they learned from, but no evidence for this has yet been found.
By the 1901 Census Shattock had moved to London and was living at 70 Wakeman Road, Willesden, but from at least 1911 (listed in the Census at High Wycombe as a furniture designer) to 1931 he was probably a designer for N&J, (and he is also credited as having made one of the pieces N&J provided for Queen Mary's Dolls House, in 1924. The dolls house was the project of Sir Edwin Lutyens, and as shown elsewhere on this website, N&J made a lot of furniture for Lutyens from his designs in the 1920s, and possibly also the 1930s).
RJ
If anyone can shed further light on Albert Shattock's life, or still has examples of his work, please get in touch via info@nandj.org.uk
======================================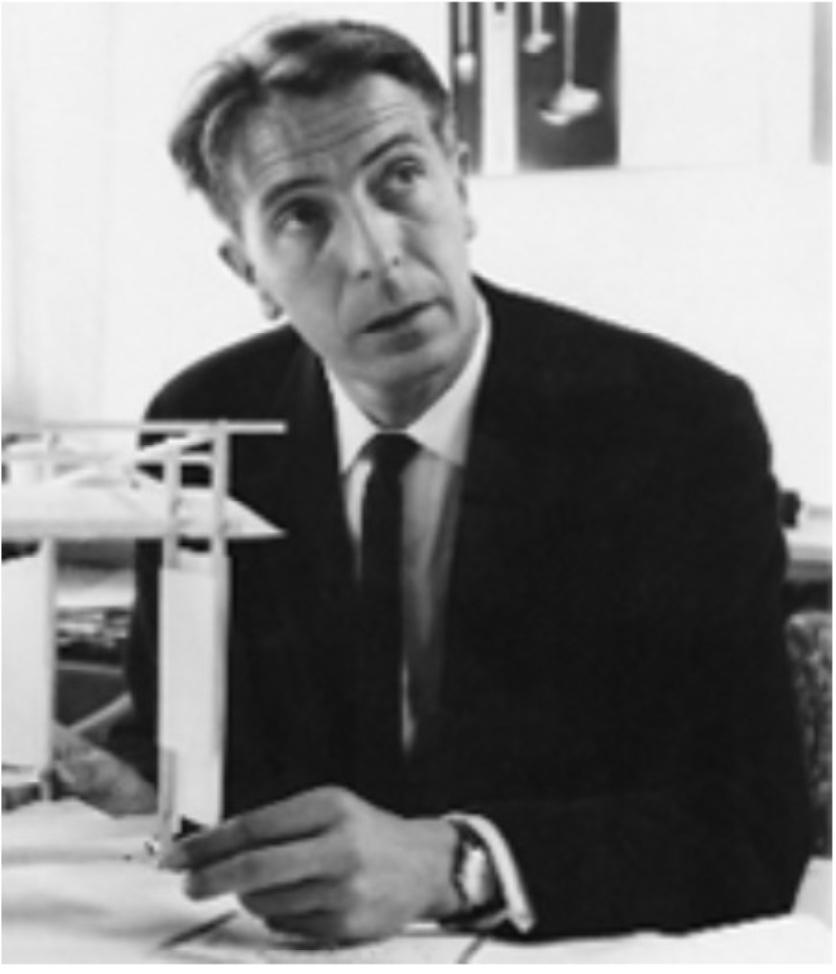 Robert Heritage worked as a designer and consultant for a number of manufacturers including, in 1956, Nicholls and Janes.
He was awarded more COID (Council Of Industrial Design) design awards by the Design Council than any other British designer in the 20th Century. His work extended from industrial products, to lighting and included furniture for the QE2 and he was acknowledged as Royal Designer for Industry, and awarded the CBE.

He was born in Birmingham, England, on 2 November 1927. After studying at Birmingham College of Art (1942-46) and the Royal College of Art, London (1942-51), he worked as designer for the London-based furniture manufacturer G.W. Evans (1951-53). In 1953 Heritage set up his own studio with his wife, Dorothy Heritage [formerly Dorothy Shaw] who had also studied at the RCA, and he subsequently working for manufacturers including N&J.

Heritage's designs for Nicholls and Janes embraced traditional elements and were thoroughly modern in proportion and detailing typifying his refined and subtle design approach. Heritage favoured bold dimensions with long sleek outlines for his cabinets, the outlines and 'façades' being simple and restrained. This approach was in contrast to most other UK-based designers and manufacturers of the period.

Using solid and veneered Burma Teak and Cherry the furniture was made to extremely high standards. The inset stainless steel drawer pulls reference historical furniture detailing and marry classical elements to the modernist design. While Elegant in appearance, intricate construction details resulted in expensive pricing and no significant commercial success.

Robert Heritage also worked with Gordon Russell in 1969, and was responsible for the GR69 range a group of furniture for both living and dining room areas.
With Ernest Race, he designed the QE2 chair, innovative for its technology, a chair of aluminium alloy for Race Furniture.

Professor Robert Heritage M.S.I.A., R.D.I, F.S.I.A.D, C.B.E. taught at Twickenham School of Art, London (1953-55) and was professor of furniture design at the Royal College of Art (1974-85). He was made a Royal Designer for Industry (RDI) by the Royal Society of Arts in 1963 and was a Fellow of the Society of Industrial Artists and Designers (FSIAD).

Acknowledgement: much of this text has been sourced from
http://made-good.blogspot.com (British & Danish Post-War Vintage Furniture)
top of page

======================================

Reginald Wisdom (1895-1920)


Lockers, including some carved by Reginald Wisdom, commemorating old-boys from Wycombe Art and Technical school who had been killed in the first world war
In the early 1890s a fund was set up to raise money for an Art and Technical School in High Wycombe to help support the traditional skills in the town of cabinet making, carving and polishing and the school was originally built on 530 square yards of land in Frogmore Gardens, now known as Frogmoor. The Institute moved to Easton Street in 1919 and one of its initiatives was a training school for ex-soldiers and sailors who had become disabled in the war, to prepare them for the furniture trade.
One of these trainees was Reginald Charles Walter Wisdom, who was born November 7th 1895 in Whitchurch, Shropshire. His father was Walter Wisdom, who was a draper's manager and his mother was Ellen. Sometime around 1900 they were living in Wolverhampton and by 1911 they were living in Wisbech Road, March near Cambridge. He had an older brother, Ralph, and two sisters, Alice, who was three years older and Muriel who was seven years younger. By 1914 the family had moved to High Wycombe and were living in 126 Abercromby Avenue. On September 7th 1914, aged 18 (although his enlistment gives his age as 19), he signed up in Fulham into the Bedfordshire Regiment. At this time has was working as a nursery man.
He transferred to the East Surrey regiment and then to the Machine Gun Corps (55th). He was sent to France on 8th February 1916 and was made a Lance Corporal on 1st May 1916. He was wounded approximately five months later receiving wounds to his foot and head. He was sent home on 3rd July 1916 and officially discharged on 11th June 1917.
When the High Wycombe technical school expanded in 1919 to train wounded soldiers Reginald was in the first cohort. He carved several of the doors in a set of memorial lockers that still have pride of place in the entrance to John Hampden Grammar School today. The lockers were designed by the head of woodcarving at the school at the time: Mr Wilson. Although designed by Wilson, the wounded soldiers crafted them after only a few months training.

The lockers commemorated boys from the school who had been killed in the war and on the cornice are the names of the recognised battle areas of the war, with the words 'They counted not their lives unto themselves'.

In a report in the Bucks Free Press dated 16th May 1919, titled "Furniture Exhibition at Wycombe - Artistic Productions by Disabled Sailors and Soldiers", Reginald's work was singled out for special praise:
"In the Exhibition there are also on view examples of a complete set of work executed by men during their period of training in the School (six months). Reginald Wisdom, who is now employed by Messrs. Nicholls and Janes, on his second period of training (six months), shows some excellent specimens of carving."
However, sadly, he died in the High Wycombe Cottage Hospital on 22nd April 1920 aged 24. Although his death was after the end of the war his head wound ultimately was the cause of his death. He died from a cerebral abscess and meningitis and is buried in High Wycombe cemetery.
Acknowledgements: to the Bucks Free Press and to the John Hampden Grammar School website, both of which provided material for this text. The photograph of the memorial cabinets is also from the John Hampden Grammar School website.

See
http://www.jhgs.bucks.sch.uk/171/reginald-wisdom
https://www.galaxypix.com/Sally/Losttheplot/Tellthemofus/WisdomRCW.html
top of page

======================================

Martin Murray (1928-2009)


Martin Murray

Martin Murray only worked at N&J for a short spell, but the furniture-making element of his life was an interesting one, and played a part in a gradual career transition which included a distinguished role with the Anglo-Austrian Society.
He was born in Croydon, Surrey, the youngest of three brothers (a younger, adopted sister joined later), to parents who had met in Dartmoor prison during the first world war, where his father was incarcerated as a conscientious objector. His mother was a prison visitor.

Soon after his birth, the family left the Whiteway colony, near Stroud, Gloucestershire - set up in 1898 by Tolstoyan anarchists - when life without money became too difficult, and moved to rural Buckinghamshire. He attended a dame school (an early form of a private elementary school, usually taught by women and often located in the home of the teacher) at Pigotts, near Hughenden, a few miles from High Wycombe.

This was the home of the sculptor Eric Gill, who was Martin's godfather (his other, confirmation godfather, was GK Chesterton) but he was then sent away to a small, progressive Catholic boarding school, Blackfriars, at Laxton, Northamptonshire, in September 1939.

Living near to High Wycombe, Martin was keen to work with wood. After a short spell at Nicholls and Janes, he was taken on by the renowned cabinetmaker Edward Barnsley at his workshop, near Petersfield in Hampshire. There, he thrived and learned to make beautiful furniture in the Cotswold tradition.

Martin was called up for national service shortly after VJ day in 1945 but as a conscientious objector himself, he joined the Friends Ambulance Service, training at the St Alfege's hospital in Greenwich, south-east London. He returned to cabinetmaking afterwards, joining Robin Nance in St Ives, Cornwall.

In the 1950s he settled into a routine of spending his winters making furniture with his mentor and lifelong friend Oliver Morel, and spending his summers with the Anglo-Austrian Society, committing to the latter as a full-time organiser and liaison officer in 1959. On his retirement in 1992, he was awarded the Goldenes Ehrenzeichen für Verdienste um die Republik Osterreich medal, for services to Austria.
Acknowledgement. The material here is taken from an obituary by his widow Josephine Murray, which appeared in The Guardian, 2nd July 2009
https://www.theguardian.com/society/2009/jul/02/obituary-martin-murray

======================================

Harry Read (pictured above) was a skilled cabinet maker who was promoted to Foreman and then General Foreman at N&J before retiring around 1955 (many thanks to SWOP, for identification of Harry Read in the 1939 Trade brochure that can be downloaded from N&J website, via the "Furniture" tab. Many thanks also to a Mr D.Haselgrove who loaned SWOP a copy of the brochure and provided them with that information). Although we had a copy of the same brochure, Harry Read was not named in the caption.
See http://swop.org.uk/swop/swop.htm

Many of the working drawings in the N&J archive which were sent to the factory would be marked for the attention of Harry Read. There are a number of published source documents which state "Harry Reid", but this was probably a mistake repeated again and again.
Documentary evidence from his birth onwards make it clear his name was Harry Scott Read: he was born in the Aylesbury district and grew up in Quainton, about 4 miles north west of Aylesbury, where his father George was listed as "postmaster, grocer, baker, farmer" (1911 Census).
In 1927 Harry married Winifred Bryant in High Wycombe District, and in 1939 the couple were living at 17 Totteridge Avenue, High Wycombe. The 1939 Register has Harry Read (born 17 August 1897) as "Best Cabinet Maker" and "Borough of Wycombe Air Raid Warden". The Ancestry transcription has this wrongly as as Harry E Read - but the entry is visible as Harry S Read on the online scan of the original.
He died in 1975. If anyone can add to this account, please let us know.
======================================

1 St Mary Street
2 The Abbey Gardens (formerly Wycombe Abbey Kitchen Gardens)
3 Queen's Road

1 St Mary Street, High Wycombe
An aerial pic (print by M.W.Keen, ref1637 G/2) of the site in St Mary Street, perhaps in the 1950s? The big apple tree in the garden between The Horse and Jockey and N&J (in the foreground on the left) was in the Hudson family's garden. A provisional key is below, as is a close-up view of the main buildings - please email any additions or corrections.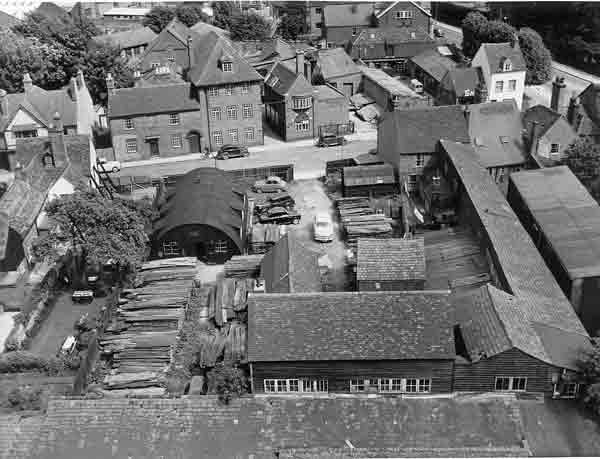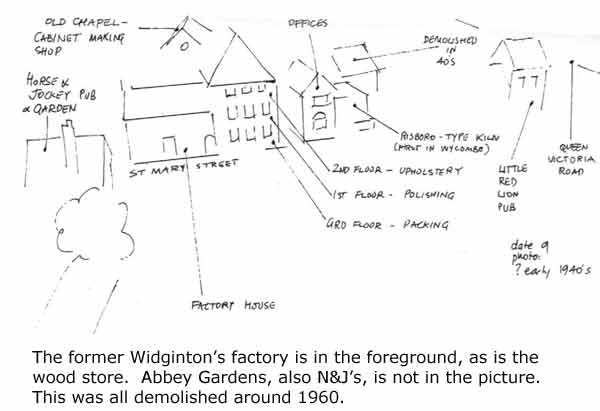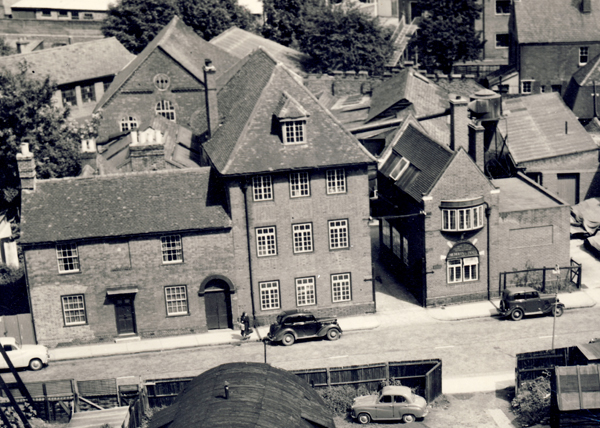 This watercolour painting of St Mary's Street, High Wycombe, probably in the 1920s, shows the view from the vicinity of the Nicholls and Janes premises. The artist was W.J.Stamps, first headteacher of Wycombe Technical College, appointed in 1911.
Frederick Hudson offers these notes ref the painting: "In the foreground is a shop which was owned by Mr Grimsdale, whose family lived further up the road. Between Grimsdale's shop and the Horse and Jockey pub (ref the green sign) was number 33, where the Hudson family [see the first tab, 'People'] lived. The white house opposite was where Stewart Janes and his family lived [he was N&J founder Allan Janes's youngest son (1885-1932)].

According to a Bucks Free Press report in 1957 of the impending move of N&J to premises in Queens Road (see below), N&J had originally moved to St Mary's Street in 1870, only two years after the company had been set up in Newlands. Various adjacent additions to the original property were made and deeds in the Centre for Bucks Studies should provide further documentation about these.

2 The Abbey Gardens (formerly Wycombe Abbey Kitchen Gardens)
 
Wycombe Abbey Kitchen Gardens appear to have come into the ownership of N&J at some point in time, and it's possible that a number of N&J deeds held by the Centre for Buckinghamshire Studies would confirm whether (and if so when) N&J acquired the Kitchen Gardens, but 1896 and 1928 might be possible dates.

There are a lot of other questions to answer about the acquisition, usage and disposal by N&J of the site of the Kitchen Gardens, which in the mid 50s became the site of High Wycombe College of Further Education (now Bucks New University).
 
The Kitchen Gardens were laid out some time in the mid to late 18th century to the north west of the current site of Wycombe Abbey, which itself had been based around the 17th century Loakes Manor (but in the 18th century the main road from High Wycombe to Marlow still ran along the bottom of a shallow valley in the present grounds of the Abbey - the line is still visible on some aerial photographs).
 
The Tithe Map of 1849 shows the kitchen gardens as plots number 232 and 233, owned and occupied by Lord Carrington.  Plot 232 was "Kitchen garden, Timber Yard and outbuildings", 2 acres 1 Rood 10 Perch, and Plot 233 was a smaller designated "kitchen garden" at 1 acre 3 Rood and 13 Perch.  At that time the timber yard might have been for the estate, but might also have been associated with the neighbouring Widgington's furniture makers, later taken over by N&J.  The smaller area was (later?) the site of extensive later greenhouses.
 
In 1896, the Abbey house and 30 acres (12.5 hectares) of land were sold to a syndicate who created Wycombe Abbey School. The Carringtons moved in about 1901 to the lavishly converted and extended farm buildings now called Daws Hill, and in 1928 Daws Hill House, its associated landscape and the remainder of Wycombe Abbey Park were sold to the school. 

The brilliant repository of old photographs of the High Wycombe area, SWOP ( http://swop.org.uk ), has a number of photographs of the Kitchen Gardens, and perhaps the most interesting is from around 1895, of an old gardener standing by the western gates to the gardens, and in the background one can see the mouth of a tunnel which ran from the gardens underneath the Marlow road to the old Loakes Manor (reference RHW12127). 

To see the photographs, and some further notes about them, go to http://swop.org.uk and key in the reference numbers given here.

Around 1895, an old gardener standing by the western gates to the gardens. SWOP pic reference RHW12127.

The locations of the gate and the tunnel have been noted below on this detail from the OS 25 inch map revised 1897 published 1900 (Buckinghamshire XLVII.1).  The plot with '39' in it is the one referred to as 232 on the Tithe Map of 1849 (see above).


Locations of the gate and the tunnel

Another interesting SWOP photo (RHW46008) shows the wall of the gardens where it adjoined the St Mary Street, probably not far the site of the junction of St Mary Street with Queen Alexandra Road when it was constructed in the 1920s. 


Junction, St Mary Street, SWOP pic RHW46008
 
There is then a sequence of aerial photographs on britainfromabove.org.uk, from 1927 to 1937 and these show that the kitchen gardens site underwent some apparent changes of use. In 1927 it appears to be neatly laid out with some vegetable plots, although the gate depicted in the photograph from c1880 1895 seems to have already gone (photo reference EPW017821).


1927

However, in a 1930 image (EPW034496) the gardens look very neglected and the newly constructed Queen Alexandra Road has cut across the southern part of the gardens before joining St Mary Street. 


1930

Then in an image from 1932 (EPW038414) there appear to be a considerable number of timber stacks stored on the site. 


1932

By 1937 (EPW052764) most of the site seems disused but there still looks to be some use as a timber store, and it can also be seen that the site of recently demolished (mid-1930) houses of Janes Court, St Mary Street, were also being used as a timber store.  This is immediately to the east of the old Widgington workshop and continued to be used as a timber store until N&J vacated the site around 1960 prior to the construction of the new road scheme.

1937

By 1949 (EAW24275) relative neglect of the site after the war years may be apparent, with a continuing reduction of available timber to be stacked

1949

If you go to www.britainfromabove.org.uk and register (this is free) you can see the images referred to above, by searching for the reference numbers given here. Many other interesting aerial photographs are on the site.
 
As the 1930s were probably N&J's most productive period it seems possible that they were using the land as a timber store at that time. The war years brought reduced manpower, and an enforced reduction in supplies of timber etc, so the smaller space shown in the first photo above, from the 1950s, may have proved sufficient for the late 1940s and 1950s.
 
However, N&J might still have had ownership of the site in the early 1950s before its acquisition for the construction of the new college.  This could explain the story related by Jim Mundy (see N&J 'people' tab),  given the absence of cherry trees elsewhere on the N&J site:
"Mr Ralph Janes (Harry Janes' Father) had a habit of passing time by shooting the birds that were sat in his cherry trees eating his crop! One day his prize gun went missing, much to his annoyance, and rumour has it that some bird loving worker had placed it in the trench just before the concrete for the footings were poured in for the Wycombe College to be built on!"
 
The most conclusive testimony is that from Alison Uttley in her book "Buckinghamshire" published in 1950, and presumably describing a visit to N&J's timber yard in the late 1940s.  Her description, reproduced below, would apply to the Kitchen Gardens, but not to the timber store that can be seen in the photo from the 1950s via the tab on this website titled 'places'.
 
"We went into a timber yard, which was really an orchard with old red brick walls and apple and pear trees growing along the sides. The ground was stacked with timber which was seasoning. Trees lay there, sliced in inch-thick slices, with wedges between so that they kept the shape of the original trunks. There they would lie for years. At least ten years is needed for the correct dryness, which is only 12 per cent water content. There was one tree in particular that interested me, a mighty tree, cut so evenly that one could see its form and imagine it upright growing in an open wood. In another part of this orchard was a pile of red mahogany imported for the work, but I like best the English wood. There were trunks of yew with their bark like shreds of rags lying there, and a pile of cherry trees cut lengthwise in thin planks, and pear wood and apple, beech and elm. Many trees lay in this orchard behind the shops of High Wycombe, for High Wycombe is indeed a town of surprises. This garden and orchard and the apple trees left growing there were part of the grounds of Wycombe Abbey when it belonged to Lord Carrington."

Ed Janes remembers a story his grandmother Alice Janes (Ralph Janes's wife) told him about goats N&J had in the timber yard: they died because they ate deadly nightshade. Looking at the condition of the gardens from the aerial photographs from 1937 and 1949, it seems possible that N&J used goats to browse back some of the unwanted vegetation. Although it might seem very unlikely that such a deadly poisonous plant would ever have been cultivated in kitchen gardens (even though It has a long history of use in medicine, and is listed in various herbals) the species was quite widespread in Chiltern woodlands even in the 1960s (ref the Botanical Society of The British Isles Atlas of the British Flora, 1962).   Seed might have come in with timber brought in from the woods around.
 
Could the gardens have been used in the war for "digging for victory"? One would have thought it could have made a useful resource, but there doesn't seem to be any memory of communal use of the gardens.  Maybe the assumption was that staff had their own gardens to work. 

According to an article in "The Cabinet Maker and Complete House Furnisher", 20th December 1947: "Mr. Janes recalls how, years gone by, very few chair makers in the Wycombe district, save the apprentices, worked after midday on Mondays. The more, industrious of them spent the remainder of the day in their gardens. The great majority went off in gangs to different country pubs, playing cricket, quoits, pitch and toss, running, jumping and any simple form of contest on which they could have a bet for beer."  But this could have been back in the 19th century - there appears to be no living memory of Monday afternoons as time off!

Any other memories of the site would be welcome - please email info@nandj.org.uk

Main sources for these notes:
Parksandgardens.org: www.parksandgardens.org/places/wycombe-abbey
High Wycombe Tithe map, 1849
OS 25 inch maps, late 19th century
Aerial  photographs:      britainfromabove.org.uk  
Photographs:            SWOP   http://swop.org.uk
 
R.J. 3rd July 2019

In 1957 the Bucks Free Press announced news of N&J's enforced move from its historic base in St Mary's Street, scheduled take place early in 1958.

This was their article in the edition of 29th November 1957:

Industrial Observer

THE CHANGING SCENE
After 87 years the High Wycombe furniture firm of Nicholls and Janes Ltd are shortly to leave their factory in St Mary's Street, and other impending changes in this original central area of the Wycombe industry will involve demolition of the town's oldest furniture factory.
Nicholls and Janes' premises are being acquired by Buckinghamshire County Council as an extension of the adjoining site of High Wycombe Technical College, and Nicholls and Janes are to take over the furniture factory in Queen's Road formerly occupied by F. R. Ellis Ltd., where they will transfer production as soon as work of conversion is complete, probably next March or April.
Modernisation of the Queen's Road factory is being planned by Mr. Eric Janes, High Wycombe architect, who has for some years been associated with his brother, Mr. Harry Janes, on the Nicholls and Janes board of directors.

FAMOUS GATES
When the move takes place next spring a new company, to be known as Nicholls and Janes (1958) Ltd., will be formed, with Mr. Harry Janes as managing director. Mr. Eric Janes, I understand, will relinquish his directorship.
When production is transferred, without interruption, Nicholls and Janes will take with them the factory's handsome carved gates, for long a notable St. Mary's Street landmark, which the late Alderman Ralph Janes, head of the firm for many years, designed and carved more than 50 years ago.

FIRST FACTORY
This move will mark another important phase in the rapid changes in the industrial face of Wycombe.
It means that the town will lose at last the original home of the Wycombe furniture industry, after the early days of the chair bodgers – the little workshop established in 1810 by Thomas Widginton, who employed 30 men assembling Windsor and cane-seated chairs. Its demolition will make way for extensions to High Wycombe Technical College.


PIONEER WORK
The firm of Nicholls and Janes Ltd., noted almost all over the world its high quality reproduction furniture, was founded in 1868 in Newland, High Wycombe, by Mr. Allan Janes, Mr. Harry Janes's grandfather, and the firm moved two years later to St Mary's Street.
There Alderman Ralph Janes, in association for some time with Mr.Maurice Janes, played a big part in subsequent development.
Another member of the board of Nicholls and Janes Ltd. is Mr. Reggie Boreham, former Wycombe Wanderers and Arsenal footballer, who is a great-great-grandson of Mr Thomas Widginton. He has been with the firm for nearly 50 years.



The above photograph of the back of the later factory site in Queen's Road, High Wycombe, was taken in 2001, some 30 years after the firm's closure. The photo was taken from a passing train by Roger Pierce (1925-2018), a grandson of Ralph Janes, and first cousin once removed of Frank and Ted Gomme (sons of Gommes founder Ebenezer Gomme).


This photograph is of the front of the premises in Queen's Road, looking North. Thanks to Martin Cambell for this photo.
The lost archive: found!
20 page N&J furniture catalogue
20 page brochure of boardroom furniture etc
8 page brochure, 1939
6 page leaflet, similar date?
Utility Furniture
Boxes
The lost archive: found!

There is now a good chance that an extraordinarily detailed archive of Nicholls & Janes's output from the late 19th century onwards will be made available for researchers at a record office in the UK.

When this N&J website was first posted in March 2011, there was a paragraph headed "The Lost Archive" about an archive reputed to have been maintained by the company, detailing more or less everything it had made. The only information available at the time as to its whereabouts was that it was thought to have been sold at auction around 1972, and nobody seemed to know where it had gone.

When the late Ivan Sparkes (author of many authoritative works on furniture) was asked about this in 1975 (at the time he was working for High Wycombe Museum), he had said the museum had been very interested, but couldn't raise the funds to bid.

However, in 2013, indirectly as a result of the presence of this website, contact was made with the purchaser of the archive, who eventually offered to donate it to nephews of the last MD of N&J, Harry Janes. The donor's offer was conditional on anonymity, and on the stated intention that the archive should end up in a suitable record office in the UK.

So the archive was collected from the donor in the USA in October 2014, and has been undergoing a painstaking cataloguing by one of the nephews, whose career has been as an architect and furniture manufacturer. This work has been by way of preparation for offering it to such a record office.

The archive includes thousands of catalogues, photographs, sketches and full scale workshop drawings many of which have already been digitised as very high resolution images in both original and enhanced format. The nephews intend that the entire original collection should eventually be securely and accessibly archived, and also that the digitised collection should become a readily accessible internet resource. Watch this space.

Further light was recently shone on the events leading up to the sale of the archive by a very opportune chance email from a curator at the Victoria and Albert Museum, who contacted this website in September 2018.

This revealed that the V&A actually held 2,600 photographic glass plates, from quarter plate up full plate in size, which had been a part of the original archive. There was also documentation showing that the archive had been offered to the V&A in 1968 by the MD of Warmcellite after it had taken over N&J and all its assets. As a price could not be agreed, Mr G.Andrews, the Warmcellite MD, then placed the archive with Sotheby's, who sold it at an auction on 3rd February 1969. It fetched £450 and was purchased by Dawsons of Pall Mall, London, who then sold on the glass plates to the V&A, and priced the remnant of the archive at £4,500 in 1972.

The listing in the Sotheby's 1969 auction catalogue:

"The Property of Messrs. Nicholls and Janes
Lot 224A
NICHOLLS AND JANES, furniture makers, of High Wycombe, 1868-1968.
THE COLLECTION OF PHOTOGRAPHS, WORKING DRAWINGS AND BLUEPRINTS, PRINTING BLOCKS, CATALOGUES , etc., covering the entire output of the firm which was making reprodction furniture from 1868 to 1968: comprising some 6,300 photographs in 41 albums, (27 folio , 4 4to and 10 loose-leaf 4to), with a bookcase for the large albums, all numbered, and with 17 large cartons of the numbered glass negatives for these prints and a further 4 cartons of prints; 30 large parcels of working drawings for these thousands of pieces of furniture, 3 cartons of printing blocks, 3 cartons of printed sheets of catalogues of church furniture and a further 6 cartons of sheets for the firm's catalogues ; various miscellaneous files of blueprints, drawings, etc., including a typescript autobiography by R.A.Janes which includes a great deal of information about the firm's history; sold as a collection and not subject to return."
Although the rest of the archive (no longer including the 2,600 glass plate negatives) was listed in a Dawsons' catalogue from 1972, it was not sold then. It later appeared in a catalogue for a sale in 1973 by Frank Hammond, booksellers of Sutton Coldfield, also with a price tag of £4,500. The contents are listed as lot number 119, but the sale to a buyer in the USA appears to have taken place several years later.

This is the description of the archive in the 1972 auction catalogue of Dawsons of Pall Mall, London, and subsequently:

"ENGLISH FURNITURE DESIGN FROM 1550 TO 1900
A UNIQUE COLLECTION OF ORIGINAL DRAWINGS, SCALE PLANS ETC. OF IMMENSE VALUE TO THE HISTORIAN OR CONNOISSEUR
Lot 87

Nicholls & Janes Ltd., Furniture Makers.
A VERY LARGE AND IMPORTANT COLLECTION of OVER 20,000 PHOTOGRAPHS, DRAWINGS (INCLUDING SOME IN COLOUR), BLUEPRINTS AND SCALE WORKING PLANS OF ENGLISH FURNITURE OF ALL PERIODS, covering the entire output of the firm of Nicholls & Janes, furniture makers of High Wycombe from 1868 to 1968. £4,500

These archives comprise some 6,300 original photographs in 43 and 26 large cartons containing approximately 15,000 ORIGINAL DRAWINGS ,3 D SCALE PLANS, varying in size from 10 inches by 8 inches to 6 feet by 4 feet, OF FINEST REPRODUCTION ENGLISH FURNITURE, including sofas, chairs, bergeries, tables, dressers, wardrobes, chimney-pleces, clock-cases, bookcases, bureaux, mirror-frames, chests, sideboards, desks, screens, beds, etc.

THE COLLECTION ILLUSTRATES THE DESIGN OF ENGLISH FURNITURE OVER A PERIOD OF SOME FOUR HUNDRED YEARS AND ALMOST CERTAINLY FORMS THE LARGEST COLLECTION OF SUCH MATERIAL EVER GATHERED TOGETHER.
In addition the collection includes a manuscript autobiography (plus typescript copy) by Ralph Allan Janes giving interesting information on the furniture trade in High Wycombe at the beginning of this century, and 21 catalogues of furniture c. 1880-1939.

The firm of Nicholls & Janes Ltd., of High Wycombe, enjoyed for nearly 100 years a reputation second to none as makers of high quality handmade English furniture in the styles of the Elizabethan, Jacobean, Stuart, Queen Anne, Georgian, Regency, Victorian and Edwardian periods. During the course of a century the firm formed an immense "library" of some 20,000 original drawings, working scale-plans, and photographs of finished pieces. These scale-plans are of particular importance as they show exactly the many minute details of design incorporated in the various styles of the different periods.

Apart from the larger and more important pieces of furniture the firm made smaller but equally interesting items such as globes, stools, stands, carvings, etc., and, to quote from Ralph Janes' autobiography: "some of my most interesting work was done for Sir Edwin Lutyens, the great Architect, who, in addition to being one of the greatest Architects of all time, was also a great designer of furniture, and like most really great men, not at all above asking for practical advice from people he might be working with. My albums are full of photographs of most unusual and beautiful things of his design that we had the pleasure of making, including many pieces that were made for Queen Mary's Doll's House."

The collection forms a valuable record of the development of furniture design over a period of 400 years and shows the trends of taste and fashion throughout the great periods of English furniture. The large number of measured scale working drawings make it possible to construct an exact and penetrating stylistic analysis of the whole range of design in English furniture from the time of the Elizabethans. As well as showing the movements of style and taste, the drawings are a rich and unique source of reference for details of design and are therefore of immense importance to the historian, collector and connoisseur.

THE ACQUISITION AND CLASSIFICATION OF THESE ARCHIVES, BY THE LIBRARY OF A UNIVERSITY INTERESTED IN THE PRACTICAL ASPECTS OF FURNITURE MAKING AND DESIGN, WOULD PROVIDE A BASIS FOR MANY YEARS OF RESEARCH"
==

20 page catalogue

This is the cover of a 20 page catalogue, probably late 1930s. A pdf (a 1.7 Mb file) of this 20 page catalogue can be downloaded here


==============================

20 page catalogue of boardroom furniture etc

This brochure of pages of boardroom and other furniture was kindly donated to the Nicholls & Janes website in March 2015 by a charity in Clevedon, Somerset, called Changing Lives (see www.changinglivesinclevedon.co.uk- special thanks to Alistair Taylor).
The brochure had been donated for resale in that charity's shop in Clevedon, along with three unattached photographs, one of which provided a
key to the furniture shown on page 8 here (S 1104). Unfortunately it was not possible to provide information on the source of this brochure, but probably it is from the late 1950s and it had been left with a local business by one of N&J's travelling sales staff. Hence the 'Please Return' on the key here, which was on the back a of a photographic duplicate of the image on page 8.
This is the cover of the catalogue. A pdf (a 2.5 Mb file) of this catalogue can be downloaded here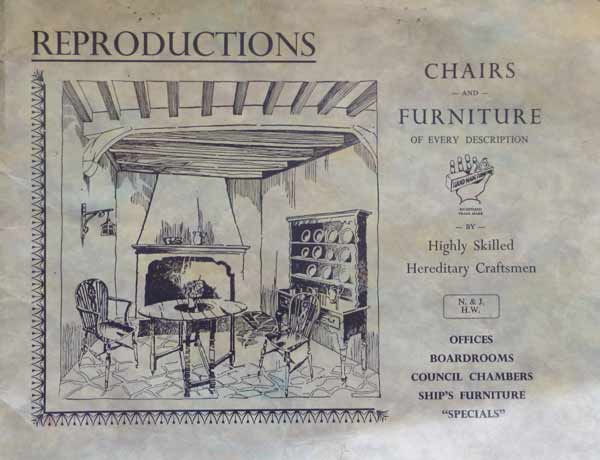 ==============================

8 page brochure from 1939

Below is the cover of an 8 page brochure produced around 1939, indicating the Nicholls and Janes stand at the British Industries Fair in Birmingham in March 1939, with a display of furniture manufactured by the company. A photo inside the brochure is of the stand being shown to King George VI by Ralph Janes.


The brochure contains some good photographs of craftsmen and women working at specific roles, such as polishing (page 2), splitting cane (page 3), chairmaking (page 4), cabinet making (page 5), upholstering (page 6), veneering (page 7) and carving (page 8), although the craftsmen are not named. The lady caning the chair (page 3) was called Alice. The 'Polishing' photo (page 2) is of Jim Hudson, who lived at Terriers.

Jim Mundy comments: "The caner pictured sitting down on page 3 of the brochure is Alice, with Mrs Harry Hudson working at the splitting machine to the left. This machine was given to Wycombe Museum in the mid 1950s and I was the one given the task of delivering it to the Wycombe Town Hal, where, the museum was then situated.
"The upholsterer pictured on page 6 of the brochure is Sid Hudson."

A pdf (a 4 Mb file) of the brochure can be downloaded here

==============================

6 page brochure, similar date?

Jim Mundy has also provided a copy of another leaflet/brochure, of which the image beneath this text was the front page.
A pdf (a 2.6 Mb file) of the brochure can be downloaded here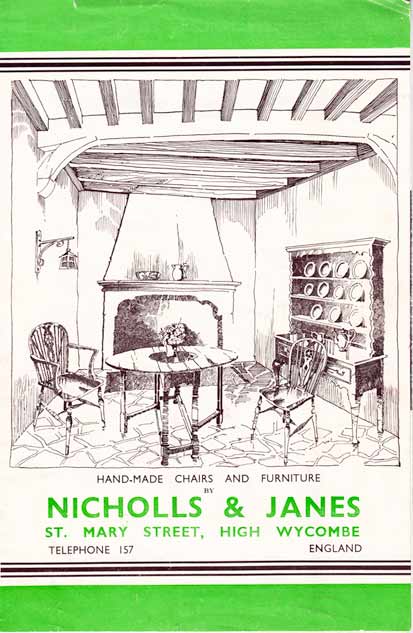 ==============================
==
Utility Furniture from N&J

Utility Furniture was produced in High Wycombe and other places in the UK from 1942 to 1952, but very little documentation has been found to record the involvement of N&J in the scheme. Given the low opinion held by many of the old timers of this type of output, compared with their craftsmanship of the of the 20s and 30s, this might not be universally regretted. However, it is part of the history of N&J, if only for four or five years.

In fact the only actual evidence acquired so far has been two wardrobes sold on eBay in 2019. Both advertisements included close-ups of the Utility Furniture mark (see below), and one included a date of 1948. The Utility mark 'CC41' (Figure 16) was patented in 1941 and this had to appear on every Utility article until the scheme ended in 1952.

The likeliest source of further details would be documents filed "Board of Trade: Utility Furniture Scheme" in the National Archives at Kew, but no actual searches for N&J in these files appears to have been made yet.

Files should include minutes of The Utility Furniture Distribution Committee, set up in November 1942. The only High Wycombe names in the The UFDC were A.E.Barnes and Allan Janes (1906-1987) (didn't show up in some searches as someone seems to have mis-spelt the name as Jaines), representing the High Wycombe Furniture Association. He was a solicitor, a grandson of N&J founder Allan Janes (1843-1904), and the son of Ralph's brother Maurice Janes (1877-1950). Maurice had been bought out of N&J by Ralph in September 1946 for £14,000.

The Utility scheme in general has been much written about, and much discussed from various perspectives of politics and design. To many of the manufacturers and craftsmen it was a sad symptom of the changed world, from the advent of the second world war, but to others it was a beacon of hope for well built and designed furniture made accessible for lower income families. The continuation of the project after 1945 was unsurprisingly debated on party lines - it was Labour's decision to continue utility clothes and furniture after 1945, and the Conservatives would have scrapped it. 

However, the underlying factors of shortages of timber and manpower made much of this change inevitable, as did changing technology and the increasing adoption of plywood, and the basic advantages of production in greater volume. But it did not necessarily go down well with those who had enjoyed boom years in the 1920s and 1930s.

A classic exposition of this view was recorded by Judy Attfield in an interview with Maurice Clarke, which took up four pages of the journal 'Oral History', Autumn 1990. "When utility furniture came in … we had to use [unskilled] people and help to do half the work for them and be behind all the time. There was no design then." Etcetera.

This might also have been the feeling behind the concluding sentence of a feature article about N&J in "The Cabinet Maker and Complete House Furnisher", 20th December 1947: "Nicholls & Janes are also designated manufacturers of Utility furniture, but look forward to the time when business will revert to normal and they are given freedom to design their own models."

On the other hand, there are already statements of support on this website. Frederick Hudson, the son of John Hudson, possibly the finest woodcarver ever to work at N&J, was happy to have utility furniture in his house. He wrote: "After the war, utility furniture was made  – good stuff – my bedroom suite is N&J utility!"

This reference to "after the war" does suggest that N&J might not have been involved in the first phase of Utility Furniture production(1942-1947), but only in the second phase (1947-52). This would also tie in with the 1948 date on the item found on eBay.

N&J do not figure in a list of ten of 14 firms in High Wycombe and one nearby in 1944, according to Journal of Historical Geography 39 (2013) pages 99-112. The authors' source for this: Board of Trade, Utility Furniture Distribution Committee (1942-1944), The National Archive, BT 64/1749. 
The ten were: Cecil George Lovegrove & Co. Ltd., A J Way & Co., Smith Bros. & Co., Croxson Bros, W Davis Ltd., J.W. Hawkins & Sons Ltd., Hutchinson & Edmonds Ltd., B. Cartwright & Son, The Ogilvie Chair Co., B. Goodearl & Sons

The following are the items that appeared on ebay. Firstly the item listed in February 2019.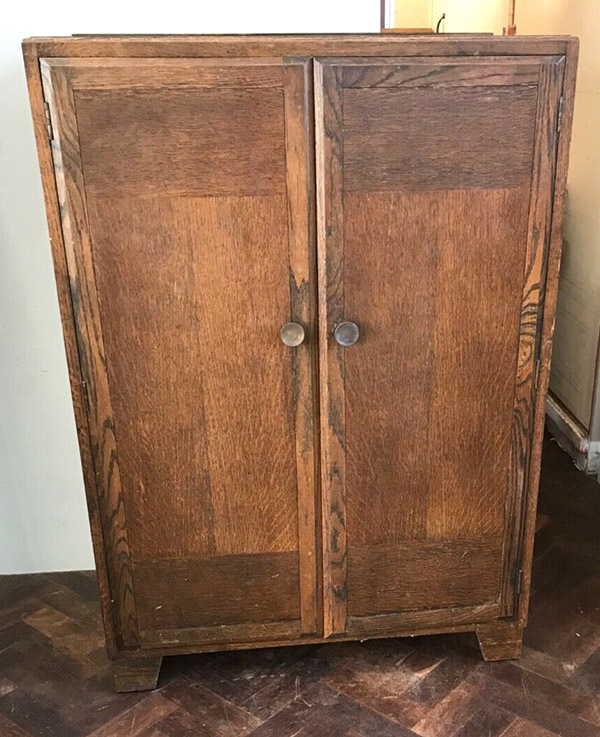 Listed on ebay 18 Feb, 2019: "VINTAGE STORAGE UNIT. " NICHOLLS & JANES" 8th JUNE 1948. Width: 33". Depth: 18". Height: 47".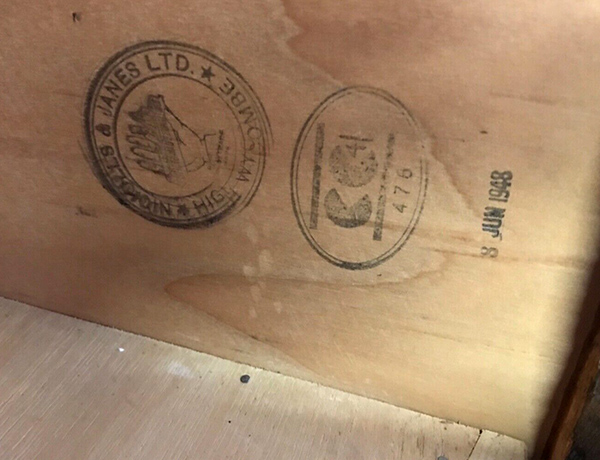 N&J stamp, with Utility CC41 mark and the number 476 shown below, and with the date 8th June 1948




Listed on ebay 18 May 2019: "Vintage 2 Drawer Tallboy Cupboard. Popular design with 2 drawers above a large lower cupboard. Depth 47cm, Width 84cm, Height 125cm.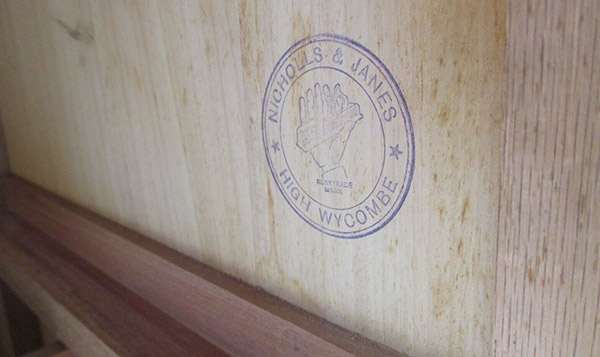 N&J stamp on Tallboy Cupboard listed on ebay 18 May 2019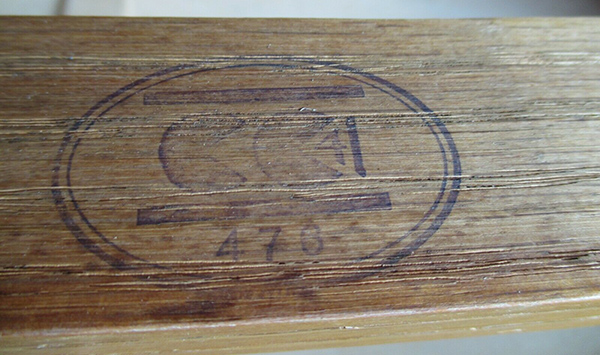 CC41 mark on Tallboy Cupboard listed on ebay 18 May 2019

Further reading
1 'Home front furniture: British Utility design, 1941 to 1951', Dover, H., (1991)
2 'Utility Furniture & Fashion 1941-1951',Geffrye Museum Trust (1995) 
3 'Geographies of the British government's wartime Utility furniture scheme 1940-1945', Philip Pinch and Suzanne Reimer, Journal of Historical Geography 39 (2013) pages 99-112
4 'Then We Were Making Furniture, And Not Money: A Case Study of J.Clarke, Wycombe Furniture Makers', Judy Attfield, 'Oral History,' Autumn1980
5 'The Decline of the High Wycombe Furniture Industry: 1952-2002', Sharon Grover (July 2014, thesis submitted for the degree of Doctor of Philosophy, Buckinghamshire New University)
6 'Nationalising local sustainability: lessons from the British wartime Utility furniture scheme', Philip Pinch and Suzanne Reimer, Geoforum 65,(2015) pp 86–95

RJ 6 July 2019

Top of page
==
Another wartime requirement for furniture makers was the manufacture of boxes for the services: "During the war N&J made all types of ammunition and special boxes for the army" was one of the recollections of Frederick Hudson, in the profile of his father John Hudson.

However, despite the fact that such wooden boxes are regularly for sale on ebay and similar sites, this is the first example we have actually seen with a N&J logo, courtesy of Roger Fisher, who sent us this photograph wondering if we could positively identify it.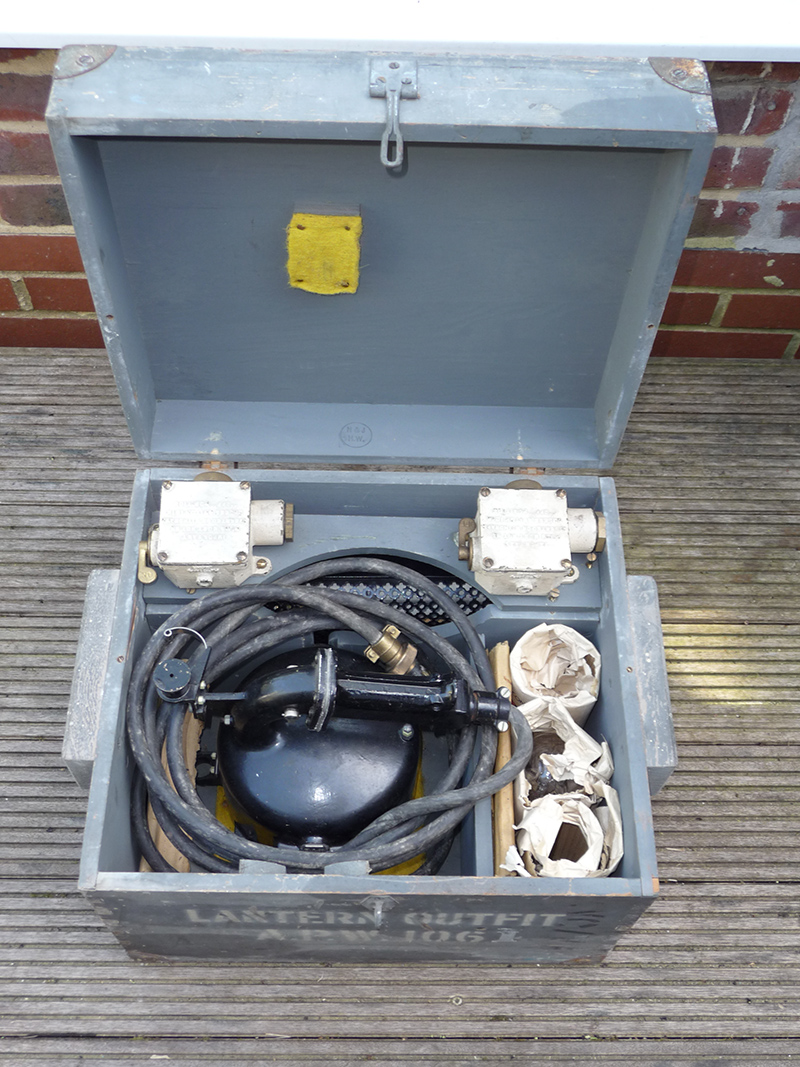 The box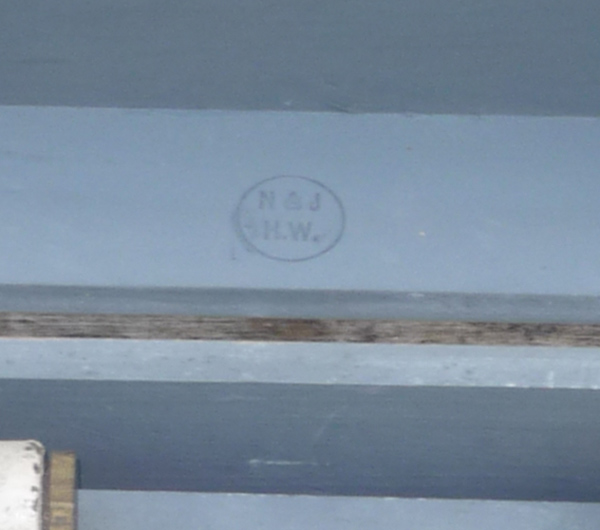 The logo (close-up)
He explained: "30 plus years ago I was asked by my father in-law if I would clear out a lady's garage after her husband passed away (I believe he was a navy type) and I could not bring myself to throw this item away. I am trying to give it to a maritime museum, but no luck yet."

We asked the Royal Air Force Museum Stafford if they could help and Ewen Cameron, Curator, kindly provided this answer: "The item in question is a signal lamp or, as it says on the box, Lantern Outfit (i.e. the lantern plus spares). These lamps, commonly referred to as Aldis Lamps, were used to send visual morse code messages by lining up your intended recipient in the cross hairs of the sight and pushing the button on the side of the housing to send pulses of light in their direction.

"These were used by all services but, in this case, I think it is a naval version with the AP of APW standing for Admiralty Pattern. If it was an RAF issue item the letters would normally be AM for Air Ministry and the trigger for the RAF versions were normally located on the handle."

RJ 8 April 2021
==
Top of page


Items made by Nicholls & Janes which were (and presumably still are) in Queen Mary's Dolls' House are listed below. The dolls house was built and furnished in the early 1920s to leading architect Sir Edwin Lutyens' design by hundreds of prominent British craftsmen and women, and is still a major attraction at Windsor Castle.
Hall and Staircase


One table
Two black lacquer chairs

Kitchen


Four chairs

Service Area
One chair

The King's Bathroom
One red lacquer chair with caned seat

The Day Nursery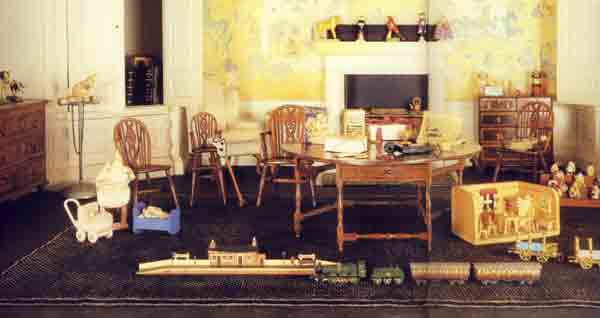 Four wheelback chairs
One high chair

The Linen Room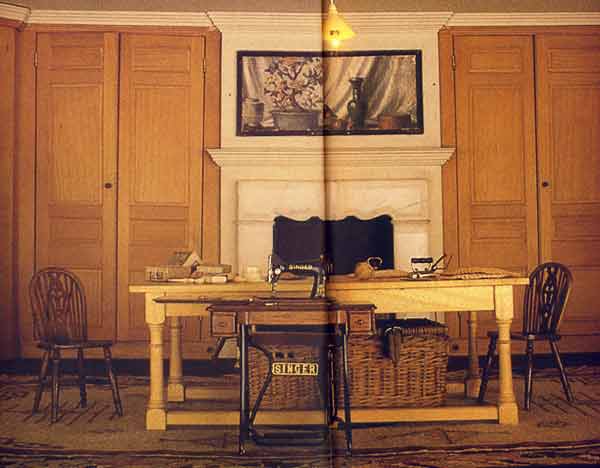 Two wheelback chairs

Man's Room No. 4
Chest of drawers
Mirror
Rug chest
Chair
Wash stand
Towel horse
The craftsmen and craftswoman who made these pieces were: B Danells, H R Hudson, Mrs H R Hudson, A E Shattock, E N Tucker, E Walker, A E White.
See 'Queen Mary's Dolls House', by Mary Stewart-Wilson (1988).
From early days, wood carving was a speciality of N&J, and was still important in the 1950s according to Alison Uttley's account (see the 'History' tab). Ralph Janes was listed as a wood carver in the 1891 Census, when he was 18. He carved the head of his wife Alice shown below in 1899.
Any more images of examples would be welcome, with any known craftsmen's names, info@NandJ.org.uk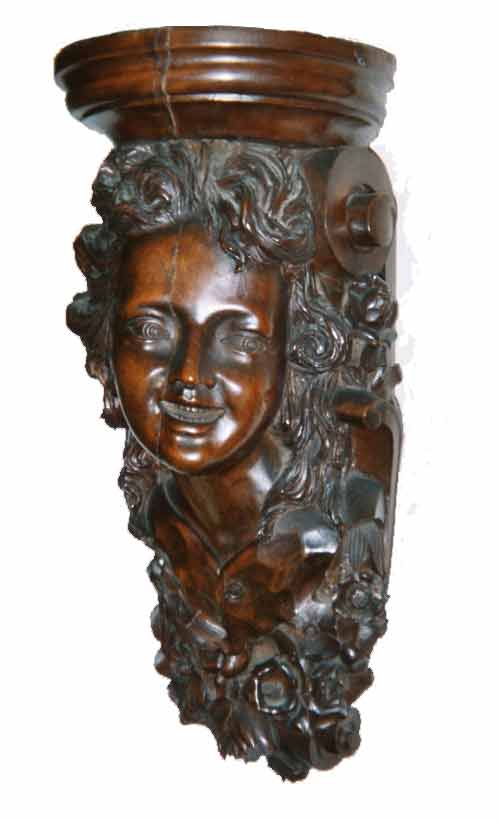 This set of chairbacks (below) included humourous representations of High Wycombe worthies (no names known, unfortunately) and were said to have been carved by Ralph Janes. Date not known either, but perhaps 1920s.

Articles in the Bucks Free Press, 2017
N&J cricket team 1873
Extract from article in 'The Cabinet Maker', December 1947
Extract from 'Buckinghamshire' by Alison Uttley, 1950
Extracts from PhD thesis on decline of Wycombe furniture trade

Introduction
According to the 'furniture factory list' (Excel file at www.wycombe.gov.uk/Core/DownloadDoc.aspx?documentID=3385) N&J were at 12 St Mary's St from 1888 to 1952/3, and at 35 Queens Road from 1956 to 1968 when it was 'sold to Warmcelite'. No sources are given, and the dates may be approximate. There is a note about the 1968 sale in 'Cabinet Maker and Retail Furnisher', 5th January 1968, page 31.

St Mary's Street had been a base for other chair manufacturers: in the 1851 Census Edmund Hutchinson was listed as a 'fancy chair maker' there employing 10 men and 5 boys, and Samuel Widginton as a chair manufacturer and timber dealer employing 14 men. Widginton's factory was built in 1810 and is reputed to have been the first furniture factory in High Wycombe (?) and the premises were taken over by N&J (date?).
Allan Janes founded Nicholls and Janes furniture manufacturers with Charles Nicholls in 1869, according to a memoir by Allan Janes's son Ralph Janes published in 'The Cabinet Maker' 4th August 1951, as well as according to the account from a 1947 edition given below. However, the 1939 brochure (see the 'furniture' tab) gives a date of 1868.
Nicholls and Janes furniture manufacturers do not appear in the 1869 Kelly's Directory for Buckinghamshire, but are in the 1877 one, listed as 'at Meadow', a street in the Newland area.
In Judson's 1875 Directory of High Wycombe, Allan Janes was listed as Alan Janes, chair manufacturer of 40 Water Lane, Newland (which ran parallel to and to the south of Meadow). An Albert Janes was at 75 Water Lane.
Allan Janes's father Martin was noted as 'chairmaker' when he married at Hughenden in 1840, and in the 1851 Census he was at Tylers Green, listed as a 'chair turner'. By the 1861 Census, Martin and his sons Allan and Benjamin were also listed as chair turners, at Wooburn Green. In 1861 Charles Nichol(l)s was listed as a 'chairmaker' at Newland. By 1871 Allan Janes was also listed as a chairmaker, in Newland Street. Allan and Ellen Janes (Charles Nicholls's daughter) were living at The Meadow, High Wycombe, according to the 1881 Census, and on the 1891 Census were residing at 8 St Mary Street.
------------------------------------------------------------------------------------------------
Articles in the Bucks Free Press, 2017
Five articles about the history of N&J written by Mike Dewey appeared through 2017 in the popular 'Nostalgia' page he writes for the Bucks Free Press. All five are available to read here in pdf format. Many thanks to Mike and the Free Press for permission to reproduce them here.
------------------------------------------------------------------------------------------------
Below is a report on page 8 of the Windsor and Eton Journal, August 2, 1873, of a cricket match between 'Mr Janes's firm' and 'Messrs Edgerley's firm'. This title suggests Nicholls & Janes may have already become regarded as Allan Janes's firm, within a few years of establishment. Allan Janes dominated the batting and the bowling in the firm's victory, with top score and most wickets. A player named J.Janes was second highest scorer (incidentally, two future MDs of N&J, Allan Janes's son Ralph and grandson Harry Janes both represented Buckinghamshire at cricket).

------------------------------------------------------------------------------------------------
The following text is taken from an article in "The Cabinet Maker and Complete House Furnisher", 20th December 1947.
Note: the 1760 reference to Ralph Janes's 'grandfather' should, if correctly applied to anyone, perhaps have been to his great-great-great-grandfather. Or perhaps the date should be 1860: Ralph's father was Allan Janes (1843-1904), his grandfather was Martin Janes (1815-1878), his great grandfather was Martin Janes (1781-1859) and his great great grandfather was John Janes (1749-1823) and his great great great grandfather was James Janes (1722-?).
Four photographs accompanied this article - see 'Photos' tab, gallery 'Nicholls and Janes 1'.
NICHOLLS & JANES LTD
History of a Famous High Wycombe Firm
ONE of the oldest furniture firms in High Wycombe-home for centuries of the craft of chair making-is Nicholls & Janes, Ltd., whose premises occupy a considerable area in the St. Mary Street district of the town. The business had a romantic beginning.
In 1805, the year of Trafalgar, a local worthy, Samuel Treacher, who occupied Hill Farm on the top of Marlow Hill, had the idea of teaching his farm hands to make up the products of the chair bodgers into Windsor chairs, to keep them occupied during the winter months. At that time although the bodgers had been in the High Wycombe district from time immemorial, the results of their labours were usually sent away to London or Birmingham for assembly. Treacher rightly believed that this process could profitably be carried out in the town.
Soon after, another High Wycombe man, Thomas Widginton, built a small chair factory in St. Mary Street, where he employed twenty to thirty men all the year round, assembling and finishing Windsor and cane seated chairs. This was in 1810. The original premises are still in existence and today form part of the extensive modern factory of Nicholls & Janes.
Widginton's venture was a success from the start though it resulted in two or three of his men breaking away and starting for themselves. By 1865 there were nearly twenty chair factories in the town.

The great-grandfather of Mr. R. A. Janes, present managing director of Nicholls & Janes, Ltd., who had carried on the chair bodging business at Penn founded by his father, sent his son to London to learn to make the best class of chair. About 1866 he was induced to come to Wycombe to teach men employed at Birch's, then the largest firm in the town, to make folding chairs of quite tricky construction, much in favour on the decks of liners and passenger steamers of that time.
In 1869 the present Mr. Janes's father and his maternal grandfather, Mr. Nicholls, started in some small wooden shops behind the Golden Fleece public house, making a good class of dining- and drawing-room chair. This was looked upon as a great advance on the general class of chair then being turned out.
Mr. R. A. Janes started work at the factory in July, 1885, at the age of twelve and three-quarters. In a chat with a representative of THE CABINET MAKER he said: "The conditions under which we worked in those days makes me wonder what the modern workers would have done about them. We had no artificial lighting and, except for the heat from the drying stove, we had no warmth at all in winter, though the hard nature of our work soon warmed us on the coldest day. We had no machinery except the sawmill, and this was only an upright horizontal affair, which was very crude compared with present-day machines.
"Some married women got work making up chairs in their own homes, and it was a common sight seventy or eighty years ago to see women lugging home six or eight seats on one arm, with a large bundle of cane o the other. The price paid for such work was varied from 2d. to 6d. per seat, and it was a quick worker who could finish even th commonest seat in an hour. In those days bow sawing, fret cutting, planing and morticing all had to be done by hand,"
Mr. Janes said I wonder what would happen if the present-day workman was asked, as workmen were then, to carry all the timber or other supplies into the factory and stack it, doing all this for no pay! Sometimes, if it was a very heavy load and the employer felt generous, they would get an order on the nearest public house for a pint of beer each, which then cost 2d. a pint. We were all expected to load the chairs when finished. This was arranged by dividing the men into gangs of anything from six to twelve and numbering them.''

Mr. Janes has written an interesting account of the chair bodgers and pit sawyers, of whom he has so intimate a knowledge. In years gone by these men, generally numbering from three to five, would buy what was known as a "fall of timber" from the different owners. Sometimes it was enough to keep them employed for a year or more in the same wood. After selecting a site they would build a rough shelter. There are a few of the old bodgers still carrying on in the woods around Wycombe, but modern machine turning has almost rendered them obsolete.
Reverting to work in the factories, Mr. Janes said that after a time some firms installed gas rings with open burners, but the men had to pay 6d. a week for such a privilege. Paraffin lamps were also placed in some factories.
The workpeople usually commenced at half past seven each morning. At ten o'clock they were given a ten-minute break for beer and bread and cheese. The dinner hour was from noon to 1 p.m., and tea was served while work still proceeded from 3.30 to 4 p.m. Nicholls & Janes today are mainly engaged on the manufacture of high-grade furniture for export, and they recently completed a special order for a foreign monarch. Some of this furniture was made in another interesting old building which has been incorporated into the present factory. This was once an old chapel, built in the 18th century, in which John Wesley used to preach when he was in High Wycombe. Traces of the original gallery can still be discerned.

Remarking on the great age of bodging, Mr. Janes said that the chair bodger was working in the Buckinghamshire woods long before chairs were made in High Wycombe.
"This is proved," he said, "by the fact that my grandfather had a gang of men making these chair parts for him in the woods at Penn and Amersham as far back as 1760. There were no Wycombe chair makers then and the chair parts were sent sometimes as far away as Scotland. Previous to 1885 there was a great deal of Buckinghamshire pillow lace made in Wycombe, and it was a common thing on fine days to see the women sitting at their doors with the pillows on their knees and the bobbins plying backwards and forwards, busily engaged on the lace which was then so popular. Many women were also employed threading small glass beads on cotton and afterwards sewing them on cloth to patterns supplied by the factor.
"Both these jobs were very badly paid for and very little was left for the purchase of coal, so the women adopted a novel method of keeping themselves warm in winter. Sitting on a cane-seated stool or chair they would place under the seat a 'shock pot' half filled with burning charcoal. Then they would pull their voluminous 'skirts round it and the gentle heat was kept in and found its way all over their bodies."

Mr. Janes recalls how the smaller firms sent out vans piled high with Windsor or cane set chairs, from which the vanman, often the principal himself, hawked all over the country from shop to shop and sometimes from house to house.
Mr. Janes also recalls how, years gone by, very few chair makers in the Wycombe district, save the apprentices, worked after midday on Mondays. The more, industrious of them spent the remainder of the day in their gardens/ The great majority went off in gangs to different country pubs, playing cricket ,quoits, pitch and toss, running, jumping and any simple form of contest on which they could have a bet for beer. These games would go on until closing time, when some very merry parties could be met tramping home to Wycombe. All this looks like time lost," added Mr. Janes, "but it did not work out that way as the piecework enabled the men, by working harder and putting in more time during the rest of the week, to make up for it."
Mr. R.A.Janes is hale and hearty and still actively engaged in the control of his large business at the age of seventy-five. He has a rich fund of anecdotes about the High Wycombe of the past, and during the war he was sought out by several American officers interested in the history of High Wycombe.
Mr. Janes has taken an active interest in the social life of High Wycombe and was Mayor of the borough from 1925 to 1928. A well-known cricketer in his younger days he won his Buckinghamshire county cap and was captain of the High Wycombe Cricket Club for twenty years. A keen sportsman, he also excelled at fishing and shooting.
Among his fellow directors are his two sons, Mr. H. R. Janes, who served in the Forces during the war, and Mr. E. R. Janes, A.R.I.B.A., one of whose inventions was used in the Normandy landing and won official recognition and thanks.
Another member of the board is Mr. R. Boreham, a great-great-grandson of Mr. Thomas Widginton, of whom we have already spoken. Mr. Boreham played as an amateur for the Arsenal Football Club for several years (he is included in the photograph of the factory outing, 1946 - see the 'people' tab).
The firm has been noted for its export trade for over forty years. Beautiful specimens of furniture made in their factory by craftsmen have been sent to practically every part of the world. They are playing an important part in helping the trade to achieve the new export target recently fixed by the Board of Trade.
Nicholls & Janes are also designated manufacturers of Utility furniture, but look forward to the timewhen business will revert to normal and they are given freedom to design their own models.
----------------------------------------------------------------------------------------------
This extract from "Buckinghamshire" by Alison Uttley (1950), pp 44-47, is about High Wycombe, but is mostly about Nicholls & Janes.

Pictures of old Chepping Wycombe hang on the walls of this Museum, water colours of great delicacy with the beautiful houses and the wide main street as it was a hundred years ago.
The museum and library are in one modern building, which is just the right size for pleasure and comfort. It has the homeliness of a private house which one seldom feels in a civic building.
The craftsmen of Buckinghamshire have left behind them sturdy memorials of their work, in chair-making at High Wycombe, in the sculpture of the stonemasons in many a village church, in the design and ornament of common objects. Now that the machine has taken over most of the handwork, there is not so much chance for individual taste to be shown, but somehow it comes out. We asked ail old man who was thatching the ricks if he would make a straw "dolly" on the apex.
"I've no time for that nowadays," said he. "I'm all in a hurry. I used to make 'em, but not now."
A Buckinghamshire carpenter came to put a draining-board in my kitchen and when he had done I went to look at his work. There was a finish and skill about it.
"That man's a master carpenter. He's a craftsman," said the other carpenter. " He's the best man for miles around, for he's a real craftsman."
I thought of this when I saw the tools in the museum at High Wycombe. Each tool had its own individuality, its handle of different wood fashioned by the man who-used it. The lacebobbins were carved with the names of the owners, with mottoes and texts. The lace itself, although following wellknown patterns, had many original designs incorporated.
Craftsmanship is still alive, and although in these hurrying days it cannot be exercised in the joy of self-expression, in the ornament on a corn rick or in a pattern of lace, it comes out in other ways. I think the "eddering" of hedges shows a true sense of craftsmanship, for it combines beauty and utility, when the weaving of the saplings is made in a pattern around the green fields.
I went to see the furniture factory of the old firm of Messrs Nichols and Janes at High Wycombe. We saw photographs of the work they had done for nearly a century. In the office there was a miniature set of wheel-back Windsor chairs, similar to those they had made for the Queen's doll's house. All the men employed before the war had been craftsmen, but now they were making Utility furniture. However, a few of the older men were employed on better furniture-making for export only, work in which originality and talent were needed. We were told of a sailor who recently came to Mr Janes bringing with him a specimen of carving he had done oil his ship. It was a bust of Shakespeare, carved with a penknife. He was given work as a wood-carver and he was training to be a real craftsman, for he wanted to use his hands and not to be a clerk in civil life.
We went up a flight of open steps to an upper workroom, and even as the door opened there was an air of well-being. The smell of wood, the shavings on. the floor, the beautiful chair backs reared against a wall, the benches with the specially qualified men in their white aprons, gave the atmosphere of a place where men work for pleasure. Working in wood seems to have a kindly effect upon the workers, for I have often been struck by the fine expressions on the faces of the men and their deep interest as they do the work they obviously enjoy.
The young sailor was there, carving the sides of a wood-box with a design of grapes and leaves, smiling as he cut the wood. Another man, the chief wood-carver, was using a fine chisel on the elegant banister-splat of a chair. The Chippendale design of ribbons, curled and waving in a wheel, was coming out from the wood as if it had been hidden there and he was finding it. He told me he used two hundred kinds of chisels in his work. Bit by bit the wood was chipped out and the delicate scrolls of the ribbon and the leaves were brought forth.
Another man was making the legs and sides in one long, curving piece. The whole of a modern Chippendale chair was made in this room.
There were chair backs of Hepplewhite design with the three wheat cars just evolved from the background, waving as if they lived and grew, especially real in the pale straw colour of the unpolished wood. There were chair backs carved in such delicacy of detail they looked like lace. We saw many designs of great beauty. The wood they were using was walnut from the country around High Wycombe. The trees are bought as they stand, but there is a careful examination first, for the walnut trees - above all others may appear to be in full vigour of leaf and fruit when they are decayed and hollow within.
We went into a timber yard, which was really an orchard with old red brick walls and apple and pear trees growing along the sides. The ground was stacked with timber which was seasoning. Trees lay there, sliced in inch-thick slices, with wedges between so that they kept the shape of the original trunks. There they would lie for years. At least ten years is needed for the correct dryness, which is only 12 per cent water content. At Princes Risborough the modern research station is working on this and kindred subjects.
There was one tree in particular that interested me, a mighty tree, cut so evenly that one could see its form and imagine it upright growing in an open wood. In another part of this orchard was a pile of red mahogany imported for the work, but I like best the English wood. There were trunks of yew with their bark like shreds of rags lying there, and a pile of cherry trees cut lengthwise in thin planks, and pear wood and apple, beech and elm. Many trees lay in this orchard behind the shops of High Wycombe, for High Wycombe is indeed a town of surprises. This garden and orchard and the apple trees left growing there were part of the grounds of Wycombe Abbey when it belonged to Lord Carrington.
We visited the Utility section of the factory which makes thousands of bedroom suites, exactly alike, as ordered by the Government. Yet these pieces of furniture are not really alike, for even in this the good workman does better work, and the high-class factory, with its excellent craftsmen, is compelled by an inner urge to do its best work under restrictions. So when the furniture is sprayed with the polish, the finishing off is done by hand. Now restrictions have been removed and there is more freedom of design.
----------------------------------------------------------------------------------------------
"The Decline of the High Wycombe Furniture Industry: 1952-2002" by Sharon Grover (July 2014) is a thesis submitted for the degree of Doctor of Philosophy, Buckinghamshire New University, available for download from
http://eprints.bucks.ac.uk/1603/

It is a very interesting resource for anyone trying to understand causes and effects of the subject in the title. There are some references to Nicholls & Janes, including the following:
Page 43: "The Science and Art College was opened by Lord and Lady Curzon on 13 December 1893. Once it had arrived it would not be too long before the new Science and Art building was out-grown. High Wycombe training school saw many famous furniture families come through its doors in those early days, the likes of Ralph Tyzack, Walter Goodearl, and Ralph Janes, who was to become chairman of Nicholls and Janes Ltd (Rutland, 2001, p.128)[Rutland, J. (2001) The History of Art and Furniture Design Education in High Wycombe - 1870-1970. PhD Thesis. Buckinghamshire: Unpublished Brunel University]. An image of the Wycombe Technical Institute, as it was later named, can be seen in Figure 25. The image shows a group of boys working in a clean workshop, with lathes and a bandsaw in the foreground. The workshop is again showing a drive shaft above the beams driving the lathes through pulleys and belting. Lucian R Ercolani was both educated and educator at the then 'High Wycombe School of Art and Craft'. From these drawing boards came the Chairmasters of Wycombe (Sparkes, 1989, p.3)[Sparkes, I. (1989) Wycombe Chairmakers in Camera. Buckingham: Quotes Ltd"]
Page 113: "An illustration of a settee by E. Gomme, showing deep, loose velvet cushions, with low backrest and two large scatter cushions was published in The Cabinet Maker in 1915. It had wooden fronts to arms that descended to ball and claw feet all elaborately carved, showing that E. Gomme was capable of producing good quality work even if yet more up-market settees with more exotic carving were then being produced by Nicholls & Janes (Anon., 1915)[Anon. (1915), Cabinet Maker & Complete House Furnisher. 6 November]"

Page 128-129: "Parker Knoll Furniture was another much respected and familiar furniture company in High Wycombe and its name represented quality up-market furniture. Frederick Parker set up his own furniture company in 1871, which became one of the most successful and important furniture manufacturers in the country (Cross and Newton- Short, 2007b). Frederick Parker moved his family and company from London to Frogmoor Gardens, High Wycombe in 1898, after a conversation he had with one of his suppliers Alan Janes, a Wycombe furniture maker. [This should probably be Allan Janes, co-founder of Nicholls & Janes].
According to Cross and Newton-Short this move was driven by the availability of timber, cheaper rents and more space. Unlike other firms in the area they were producing high quality upholstered furniture, specialising in chairs and sofas, and not the familiar Windsor chairs of the area. According to Bland (1995, p.28) Parker Knoll was 'the first in the area to do so".
Page 173-174: "Many High Wycombe companies manufactured reproduction copies of furniture to various standards. Nicholls and Janes, a family furniture company in High Wycombe was one such firm that produced high quality reproduction furniture. Nicholls and Janes used the newly written books on antique furniture to produce an antique that was incredibly genuine. (Janes, 1951)[Janes, R.A.(1951) Wycombe Memories. Cabinet Maker and Complete House Furnisher. 4 August, pp.422-23.]"
Page 187: "The use of the new college building was reported with enthusiasm in 1954. It can be seen towering over the traditional furniture factory of Nichols and Janes (Figure 127), which ironically was later to be demolished for further college building work, seen in Figure 128. The college went on to educate a huge number of furniture makers, designers, managers and the like. Figures 129 and 130 show the fantastic workshops and studios that were available to students at that time. The college was to eventually become, over fifty years later, the National School of Furniture, although this had been the vision at the outset. 'It may come to be looked upon as the national furniture college, the need for which has been emphasised from time to time by educationalists in the industry' (Anon., 1954b)[Furniture factory within a college. Cabinet Maker and Complete House Furnisher. 20 Novembe 1954, p.691]".
Page 192: Figure 98 An image of The Festival Exhibition Committee (left to right)
H.J. Cutler, H.R. Janes, J.B.Heath, E.M. Clinch, Max Goodearl, N. C. Beale
(Anon., 1951b)[Festival Exhibition: Opening ceremony at High Wycombe. Cabinet Maker and Complete House Furnisher. 11 August, p.504.]"
Page 296: "There are many other High Wycombe furniture companies worthy of research, from the larger companies of Thomas Glenister and William Birch to the small family chairmakers, such as Forward and Donnelly. From the contact made with Peter Batchelor, the work of Ted Hoing (Peter's uncle), who was a furniture maker at Nichols and Janes and EMF Browns, has been brought to the attention of the author. The drawings and writings of Hoing's are now in the High Wycombe Furniture Archive. "
Photo galleries. Watch this space, we hope to be adding to these over the months / years. Apologies if any pics do not carry the appropriate acknowledgements - please let us know and we will try to correct this. If you can send us any photographs or add any info that can be added to the captions, please let us know at info@nandj.org.uk


Nicholls & Janes 1 (15 images)

Nicholls & Janes 2 (15 images)

In April 2017 Wycombe Museum received an offer of a donation of documents relating to the furniture made at N&J. The offered donation, which is still awaiting formal acceptance from the museum, is from Professor Philip Hussey (see the 'people' tab here). A selection of his furniture designs, sketches and plans for N&J, and other donated documents are shown here in the three web albums N&JPH1 (Numbered sketches), N&JPH2 (Unnumbered sketches etc) and N&JPH3 (Samples of contents of four boxes of photographs etc).
Details of items can be download here
N&JPH1 (46 slides)

N&JPH2 (12 slides)

N&JPH3 (9 slides)